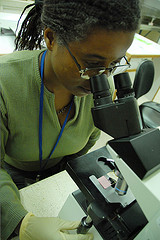 Scientists may have developed a new breakthrough HIV/AIDS treatment in three antibodies that suppress HIV strains, according to new report published in the journal Science.
Discovered in the cells of a 60-year-old African-American man whose body produced them naturally, the antibodies may activate the body's ability to develop similar antibodies that would ward off HIV. One antibody suppresses a record 91 percent of HIV strains and another is radically different from previous antibodies.
Longtime HIV-positive people could benefit from the antibodies, too, as they might make other treatments more effective.
In more good news for HIV/AIDs patients, the Health and Human Services Department has approved $25 million to help states buy more medicine for those who can't afford them and have been suffering while on waiting lists to obtain them. According to the Kaiser News Netowk, as of July 1, about 2,100 people were on waiting lists for the AIDS Drug Assistance Program in 11 states.