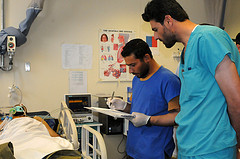 U.S. News & World Report just released its annual Best Hospitals ranking, which includes a few New York City hospitals in top spots.
The survey, which compared about 5,000 hospitals nationwide with a complex methodology, broke the hospitals into 16 categories including endicronology, cancer, ear, nose and throat, and geriatrics. Hospitals that earned top spots in more than six categories earned a spot on the Honor Roll. The top six on the Honor Roll: John Hopkins in Baltimore, the Mayo Clinic in Rochester, Massachusetts General in Boston, the Cleveland Clinic, Ronald Reagan UCLA Medical Center and New York-Presbyterian Hospital of Columbia and Cornell.
While these rankings bode well for residents in these cities who can afford insurance to cover hospital treatment — and the new health care law will help them — it's tough to overlook those in low-income areas nationwide who have seen their neighborhood hospitals close or fall deep into financial woes. Writes the New York Times in 2008:
"We have an all-out crisis here," said Carol Meyer, the director of governmental relations for the Los Angeles County Health Services Department. "In terms of lack of access to care, emergency room overcrowding and total underfunding of the health care system."

In many ways, the woes of South Los Angeles mirror other poor urban health care systems. Medical centers in Philadelphia, Washington, Cleveland and elsewhere have closed or fallen into bankruptcy in recent years, leaving patients scrambling.
How have hospital closings in your area affected you?
Photo credit: Isafmedia via Flickr