Tune in to Healthstyles tomorrow, Friday, July 30th, from 1:00 to 1:55 PM on WBAI, 99.5 FM, for an interview I conducted with Rosemary Gibson,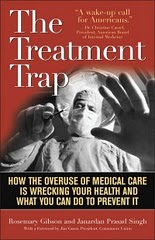 lead co-author (J. P. Singh) of the new and important book, The Treatment Trap. Rosemary is a former senior program officer for the Rober Wood Johnson Foundation and has authored other works on health care quality and safety, notably the book Wall of Silence: The Untold Story of Medical Mistakes that Kill and Injure Millions of Americans.
The Treatment Trap is probably her most provocative work. She provides a critical analysis of the "green monster"–our out-of-control, expensive, unsafe health care system. The book is well documented and includes personal stories of patients', families', and providers' experiences with overscreening, unnecessary treatment, adverse effects from that treatment, and even death. She also provides an historical context for the birth and nurturing of this monster, along with ways to control it. During the interview, she discusses these issues and provides listeners with strategies to reduce their own risk of being the victim of unnecessary treatment.
Don't miss this interview. She's right on track with what's wrong with health care and why the new health care reform law won't fix it. And check out her blog, The Treatment Trap. She'd love to hear from people about their own experiences with these issues.
Diana J. Mason, PhD, RN, FAAN
Rudin Professor of Nursing