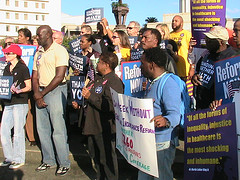 While the battle to pass health care reform formally ended months ago, new reports and state actions have mystified patients and kept the debate alive.
The new federal health care law will save about $8 billion by the end of 2011 and $757 billion by 2020, according to a new administration report. Medicare spending will rise by 5.3 percent a year on average over the next decade, compared to 6.8 percent without the cuts; Medicare Advantage will be cut about $5.3 billion through 2011. About $8 billion will be saved through 2020 with a new program that will reduce hospital re-admissions caused by infections.
Some states have thrown down legal gauntlets. A Virginia court today ruled that Virgina can sue the government over the law, claiming that Congress violated the Constitution with the law's provision that all Americans buy health insurance by 2014 or pay a fine. Missouri residents will vote tomorrow on whether to invalidate the same provision. According to the New York Times, a recent Missouri statewide poll did not favor that move. Arizona and Oklahoma will host similar votes in November, and 22 states have filed lawsuits.
Older Americans seem most concerned with the law, and the least informed. The National Council on Aging surveyed 636 men and women over 65 and found many did not know specific benefits of the program including one free doctor visit each year and that the new law will gradually increase prescription drug coverage.
Do you find the new health law confusing to administer or to understand your new benefits?