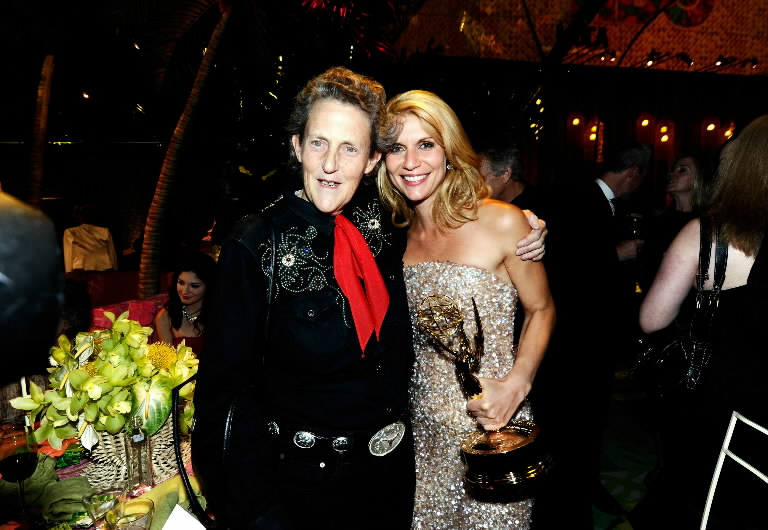 The HBO biopic Temple Grandin won five Emmys on Sunday night—including one for Outstanding Made-for-Television Movie and one for Lead Actress Claire Danes—but few people actually knew about the woman who inspired the film. Temple Grandin was diagnosed with autism at the age of 2 in 1950—and went on to earn multiple advanced degrees, including a doctorate in animal science. She's now one of the top advocates of both autism-spectrum understanding and animal welfare.
In the late 1990s, Diana Mason and Barbara Glickstein, co-directors of CHMP,  and producers and co-hosts of Healthstyles radio, interviewed Temple Grandin, after reading about her in a New Yorker article by Oliver Sacks, MD,  A Neurologist's Notebook:  Prodigies and interviewing Meg Daley Olmert, who met Dr. Grandin when they both lived in Colorado and  Ms. Olmert was conducting research for her book, Made for Each Other – The Biology of the Human-Animal Bond.  Their work connected around the human animal-bond. Ms. Olmert's research focuses on the hormone oxytocin and the brain chemistry humans and animals trigger in each other which has a profound effect on our mental and physical well being.  She arranged for us to interview Dr. Grandin live in our studio in New York City while on her book tour for her first book, Thinking in Pictures: My Life with Autism. The interview was challenging for all three of us initially until the hosts settled into a pace and rhythm with Temple Grandin. What made this  unlike other interviews was that our guest shared with us before we went on the air live that every time we spoke a word she saw it in her mind as a picture. This fascinating conversation focused on what it was like for her to live with autism.  She talked about the way she developed unique coping strategies, including her famous "squeeze machine," which she modeled after seeing the calming effect of squeeze chutes on cattle.  She has an amazing ability to describe how her visual mind works and told the listeners how she made the connection to the cattle she visited on her Aunt's ranch as a child growing up and that special bond helped her understand her needs as a person who had autism. She spoke of her family's resources that allowed them to hire compassionate gifted caretakers early on in her life that engaged her and taught her one on one. She also attributed her summers at her aunt's ranch which provided her with great insights and helped her develop the ability to pursue her scholarly research in the field of animal science.  In addition to her work as an advocate for autism, Temple Grandin is a professor at Colorado State University and a consultant to the livestock industry.
This was one of the most memorable interviews Mason and Glickstein conducted over the past 25 years of doing a weekly radio program. Temple Grandin let us into her unique world living with autism and this conversation educated the public a little bit more about this disorder.  As registered nurses and broadcast journalists, Healthstyles is our public health practice and provides a platform to bring the voices of those under-represented in the popular media to many in our communities.  Healthstyles is streamed live on wbai.org Fridays from 1:00 PM to 2:00 PM EST.