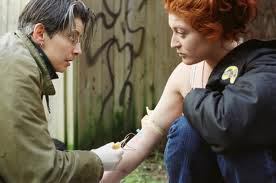 On Tuesday, October 26th, and Thursday, October 28th, The Center for Health Media and Policy hosted two events with Vancouver Street Nurses, Fiona Gold and Jaunita Maginley.  Both evenings began with a screening of their educational documentary entitled, "Bevel Up: Drugs, Users, and Outreach Nursing", and was followed by a question and answer session with Ms. Gold and Ms. Maginley.  Below are some interesting questions and comments raised during the question and answer sessions after screenings.
From the October 26th Event at Hunter College, moderated by Dr. Jessie Daniels (CHMP Senior Fellow and Associate Professor of Urban Public Health at Hunter College), and the October 28th event at New York Academy of Medicine's Ninth International Conference on Urban Health:
In the film, a Street Nurse asks Becky to step outside of the van to inject her heroin.  Why is this?
From Ms. Gold and Ms. Maginley: The supervised injection site in Vancouver is new and still highly contested, so it was important to the Street Nurses that they not undermine the work being done there by allowing supervised injection in the Street Nurses' Van.  Ms. Maginley said, "Good care and smart politics go hand in hand," and Ms. Gold said, "We don't want to seem like renegade nurses."
With the complexity of care involved with Street Nursing, how has the program been organized to handle this?
From Ms. Gold and Ms. Maginley:  Key to keep in mind is the saying that came from the HIV/AIDS movement, "Don't make plans about us, without us" (Ms. Maginley).   Listening to the needs of the people being served is the most important factor in providing good care.  This allows the program to better connect people to housing, clinics, detoxification programs and mental health services.
What have you seen come out of widespread distribution of the film?
From Ms. Gold and Ms. Maginley: The film has been even more than just an instructional tool, but also a way to create dialogue about difficult questions regarding needs of an area where those who are watching it are.  Masha Golovanevskaya from the Open Society Foundations New York was present, and was asked to share her experiences of working with nurses and public health organizations in Russia and the Ukraine.   She said "Bevel Up" has been included as part of a harm reduction curriculum in many harm reduction programs throughout the Ukraine and Russia.  Not only has it helped to promote effective harm reduction strategies, but it has also helped empower nurses to help those suffering from addiction.
Comments on Frankfurt's success with their supervised injection sites
From Ms. Gold and Ms. Maginley: Ms. Gold had recently visited a supervised injection site in Frankfurt, and spoke about the "continuum of care" those living with addiction are able to receive there.  In the same building, in addition to supervised injection rooms, there is housing available, a needle exchange program, as well as a detoxification program1.
There was also discussion on applications of harm reduction to the U.S., including California's Proposition 19 (decriminalization of marijuana)
From Ms. Gold and Ms. Maginley: In 2001 Portugal abolished all criminal penalties for possession of drugs including marijuana, cocaine, heroin and methamphetamine.  The new policy has shown significant successes in public health2.
Notes:
1The Frankfurt program has been found to significantly reduce the number of homeless drug users, incidents of drug-related crime and violence, and drug-related deaths (source: Kemmesies, U.E. (1999). The open drug scene and the safe injection room offers in Frankfurt and Main 1995. Final report. Hamburg, Germany: European Cities on Drug Policy.)
2A report on the new policy 5 years later showed positive results, as the deaths from overdoses went from 400 to 290 annually since 2000, and the number of new HIV cases caused by dirty needles to inject heroin went from 1,400 in 2000 to 400 in 2006.
Jen Busse, RN, MPH is an intern for CHMP and is currently working toward her MSN as a family nurse practitioner