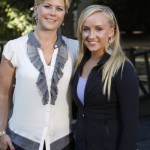 In last night's episode of The Biggest Loser, Olympic gymnast Nastia Liukin delivered an important message to the contestants. With a bright smile and her child athlete's familiarity with total self-denial, she was a beacon of hope, a kindred spirit to our friends on their journeys. She was also there to address a crucial topic: food, which is something rarely discussed on the show. Aside from tossed-away tips and food-related challenges, America's $100 million weight-loss juggernaut is mostly silent about what to eat while slimming.
However, Nastia had some helpful information: "Staying fit is a process and part of that is eating right and maintaining a healthy lifestyle. The great thing about Subway is, it fits perfectly no matter what your needs are."
You see, leaving the ranch loomed large on last night's Biggest Loser.  With six contestants remaining and two of them about to go home, everyone began to worry about how they would fare outside of the show's artificial bubble. Bob and Jillian decided it was time for a fireside chat.
"Contestants are going home soon. Historically speaking, it's a really difficult transition for them," said Jillian, with her trademark crooked smirk.
Bob went for a more colorful (and confusing) metaphor to describe the contestants' situation: "You guys have pulled the curtain back. You've met the wizard….You have the strength. You have the knowledge. You can do it. If you decide you're worth it enough to do it."
But the soon-to-be-eliminated Mark voiced the fear that all the sweatshirt-clad were feeling:
"I honestly don't know what to do when I get home."
Currently, Mark is a bartender. He works all night. Then he eats his one big meal, and goes to sleep for the day. That's his life, which left him weighing 421 pounds when he arrived 11 weeks ago. So, whether he can summon self-worth or not, replicating the conditions of the ranch, with its six-hour daily workouts, may be fairly daunting. And now that he has "the knowledge," as Bob puts it, how will he change his diet?
For starters, what knowledge, exactly, do The Biggest Loser contestants and their audience have about weight loss and nutrition, aside from its endless Subway product placement? Veteran watchers of the show eventually notice that it's all exercise and no diet.  Viewers get no information about what the dieters are eating, or what the rules and requirements are. Celeb chef and chiseled Aussie Adonis Curtis Stone is on hand once or twice a season, making healthy cupcakes, for example (or showing how to make a leaner Thanksgiving feast on last week's bonus episode, "Where Are They Now," a pointless exercise whose highlight was medical consultant Dr. Huizenga claiming the show deserves a Nobel Peace Prize. Sorry, Chinese dissident!)
Viewers of the show are left wondering: What exactly are the dieters being taught to eat? What could I eat to lose 10 or 15 pounds a week?
After all, weight-loss experts are increasingly pointing out that while the health benefits of exercise are tremendous, it plays a smaller role in weight loss than was previously thought.
From Time's August 2009 cover story, "Why Exercise Won't Make You Thin":
"In general, for weight loss, exercise is pretty useless," says Eric Ravussin, chair in diabetes and metabolism at Louisiana State University and a prominent exercise researcher. Many recent studies have found that exercise isn't as important in helping people lose weight as you hear so regularly in gym advertisements or on shows like The Biggest Loser…"
Weight loss is a numbers game. For each deficit of 3,500 calories, your body loses one pound of fat. (Of course, you can lose more by restricting your water intake until you urinate blood, as past contestants have admitted to doing prior to weigh-ins).
According to one calorie estimator, a 5'6", 215-pound woman who is 30 years old and engages in heavy exercise requires about 3,000 calories a day to maintain her weight. In order for her to lose five pounds in a week (this week the two women lost four and six pounds), she would skip 17,500 calories of the 21,000 calories she needs, consuming 500 calories a day. Anything below 800 calories a day is considered a Very Low Calorie Diet (VCLD).
Under some circumstances, it appears that VLCDs can be safe. In the case of 34-year-old bride-to-be Samatha Clowe, eating 530 calories a day on the popular British diet LighterLife, it was fatal. Hers was the second case in three years of a heart-related fatality suffered by people on this medically supervised VLCD plan.
Remember on Episode 6 when Bob and Jillian were infuriated to learn that Lisa was cooking for Elizabeth (which was never actually shown but was discussed at the weigh-in)? Most viewers were probably more shocked to learn that viewers cook their own meals, since ranch meals are virtually never on the air, and contestants are rarely, if ever, seen cooking.
As Nastia, who has previously appeared in Subway ads , explained, Subway is perfect for your needs, whatever they are. If your needs include cheap, processed, factory-farmed meats with cancer-causing nitrates, then that $5 foot-long is for you.
But, of course, for most Americans, eating better than Subway is out of reach, since the average American spends 13 percent of his or her income on food. Some people can do the certified-humane, hormone-free chicken and organic broccoli, but some people just can't. This expansive and deep Newsweek article traces how food choices in American life have become inextricably connected to social class.
In food's second appearance in last night's show, contestants were shown eating pieces of fruit for a few seconds in the ranch house's spotless and empty kitchen. Later, there was a totally uncontextualized product placement for ground turkey, sautéeing in a pan while nothing else was being cooked or prepped. The Jennie-O label, a subsidiary of meat giant Hormel, was prominently shown.
While last night's Biggest Loser depicted overweight people exercising, sweating, moaning, and getting yelled at for about 32 minutes of airtime, eating was mentioned and/or shown for less than 2 minutes.
Eating, which is, after all, the key behavior in both being overweight and achieving weight loss, is all but absent from the entire series, except for the occasional product placement. (Note to the wise: skip the salad dressing Jillian hawks). And in this desert of information, Subway becomes the only consistently presented healthy choice. In Episode 4, Bob took contestants to Subway to promote the restaurant's breakfast menu; in Episode 9, the "challenge" was a Subway sandwich-making contest.
So there you have it, America. Do you want to replicate The Biggest Loser's difficult behavior modification? Well, you don't get to know what the contestants eat. But you should eat all your meals at Subway. Or maybe try Googling Bob. After all, after taking the contestants for their Subway breakfast, he had them over to his house to "eat like he eats" – vegan.
Read last week's coverage of The Biggest Loser here: