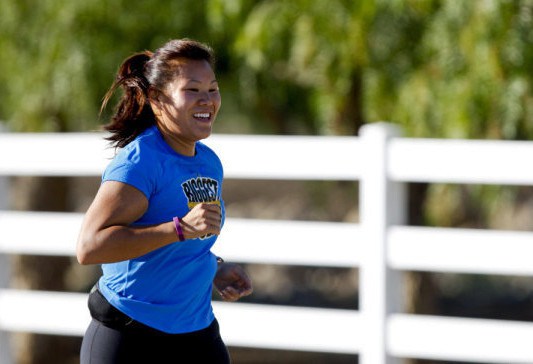 On last night's Biggest Loser, Patrick, a sweet, aw-shucks unemployed 27 year-old husband and dad of two from Vicksburg, MS, was crossing the finish line of a marathon on the California coast. Weighing in somewhere in the mid 200s (the show's official weigh-in had not yet happened), he made a respectable time of 5 hours and 45 minutes.
But there was another man talking to him. It was …. also Patrick, taped back when he weighed 400 pounds, just three months prior. Disconcertingly referring to himself as "we," meaning, "the fat me and the skinny me," he also commented:
"I don't believe there's any way that I could run a marathon. I'm not sure that I could even finish it. It would take all day. That's like climbing Mt. Everest or somethin'…."
Moments later as viewers continued to watch our heroic final four dieters run, jog and walk to the marathon finish, they heard from Fonzie-like Staten Islander Frado, a family man and financial trader: "You can do this. If I can do this, anybody can do this."
It was marathon night on Biggest Loser, where the four remaining dieters each completed a 26.2 mile course. Ada ran it in a competitive burst with a final time of 4.5 hours while Elizabeth surely walked most of her 7.5 hours. Regardless, for the series' penultimate episode, it was the perfect, symbolic choice. Nothing could be a clearer demarcation of how far the losers have come, or a more perfect representation of how many missed opportunities America's biggest health-related TV show has seen this season.
After all, a two-hour diet and exercise show which regularly pulls in between 7 and 12 million viewers has a pretty strong platform for disseminating encouraging information, right?
So while it was a marathon-themed show, and the actual marathon inhabited the majority of the show's glossy airtime, what did producers reveal to viewers about how to safely train for a marathon?  After all, we can do it, right? It isn't like climbing Mt. Everest, isn't that what you're saying, producers?
Well, let's see. The dieters were told via video by host and daytime soap star Alison Sweeney that they would have six weeks to prepare for the marathon. Then they were shown jogging and at the gym. Presumably, the dieters, unlike viewers, received a least some marathon-specific information, training plan, or guidelines, although none of that information was shown. (This is highly typical of the show's pattern of chronically avoiding specific dietary information, which I addressed in last week's post.)
You can bet that a lot more people would be inspired to try training for a long-distance run if the Biggest Loser offered a practical blueprint rather than bizarre "old fat me talks to new skinny me" video motivational segments.
Hal Higdon, Senior writer for Runner's World magazine and author of best-selling "Marathon; The Ultimate Training Guide" has 6 programs for aspiring marathoners to develop their skills and endurance. The programs suit novice runners and the highly fit and active. In all 6 programs, Higdon recommends an 18-week training program to prepare. He also offers two additional marathon prep programs for people who prefer a different training schedule. Those are 30-week plans. As Higdon describes his recommended training program:
"It is a gently progressive program involving four days of running a week. The long run in the first week of training is a relatively easy 6-miler. Each weekend, the long run gets longer, peaking at 20 miles three weeks before the marathon. A tapering period allows runners to gather energy for the race. Stepback weeks allow runners to avoid overtraining. Cross-training and ample amounts of rest complete the mix."
With knee and other injuries common to runners who overtrain, a rushed, six-week prep time is not recommended.
As The Biggest Loser wraps this season, viewers have to wonder why there are such striking "holes" of specific information presented. Is it a need to limit liability, something trainer Jillian knows all about? Is it to increase future marketing opportunities of the information not freely given? Is it to get you to go on The Biggest Loser cruise?  (prices start at $1300) or to one of the two Biggest Loser resorts (Malibu campus stays start at $2300).
Well, whether America is going to strap on its Nikes today or not, last night's Biggest Loser wasn't the finale, but still emerged with a winner. Ada Wong won both our hearts and the road race. Her story arc has been the saddest of the season, with emotionally unavailable parents who blame Ada for her brother's death. While awkward references to "cultural issues" have been made on-air, critic Sylvie Kim went much further in Hypen magazine in her piece, "The Biggest Loser and Getting A Taste of Asian-American Shame." As she writes:
"By delving into this complicated Asian American family we run the risk of perpetuating the demeaning, unfeeling Asian parent stereotype, tied to the Image We Can Never Escape, known as the Model Minority and its undercurrents of perceived perpetual foreignness. We Asian Americans excel at the expense of that lil' thing known as human emotion. Oh, if we only had a heart."
Like Ada, the unfeeling Asian parent stereotype has legs. It was explored chillingly in this recent New Yorker short story. But when Ada's family finally made their appearance on camera this week, they exploded these distorted and reductive racial stereotypes. Vacillating between crying, saying that they didn't know how unhappy she was, being frustrated and pointing out all they do for her, and saying they missed, loved her, and thought about her, Ada's family came across as that most familiar and universal of family types: a major pain in the neck, but in the end, doing the best they can.
And then, despite a 6-minute port-a-pottie break, Ada killed the marathon in 4.5 hours, shattering the women's record for the show and beating the other three dieters. Yet having spent the prior 6 weeks training for and running a marathon, she lost only 12 pounds, finishing last in the all-important weigh-in. This "low" number underscores one of the main points in last week's post, that exercise alone plays a limited role in weight loss. Ada's shockingly low weight loss of only 2 pounds a week (which is actually the recommended maximum weekly weight loss in the non-Biggest Loser cosmos), means that now America gets to vote whether she or Elizabeth goes home.
There's not much suspense, though. Elizabeth finished in the bottom something like 8 of the first 11 weigh-ins. She has been kept around by other players strategically, since they all know she can't beat them. Ada has never been in the bottom. I don't think America will boot her, but I also don't think she stands much of a chance against a financially desperate former 400-pounder for overall percent of weight loss. And the way the producers have set up Frado v. Patrick, there's not much doubt they think it's Patrick all the way (money quote from Bob this week: "He's such a good man, and …. this would be a blessing of a whole other kind" – translation, our darling man needs the money, bad).
So next week's live finale will come and go, and Americans are left with the crumbs season 11 offered them about health, realistic diet goals, how to exercise, and the like.
But if it's overweight people you like watching, don't fear the impending end of this season's BL. VH1 is developing what's being dubbed as "Fat Sex & The City." On the dieting show front, in late December MTV premiers its weight-loss show for the college bound set, a youth-oriented "unscripted" reality diet show from the production company that does Biggest Loser, 3 Ball Productions. 3 Ball are also the creators of ABC's new show, formerly called "Obese" but now much more saavily titled "Extreme Makeover: Weight Loss Edition," the most promising of the lot as it follows dieters over an entire year rather than a few high intensity weeks.
Don't know how many marathons there will be, but here's hoping viewers of at least one of these upcoming shows will get better health information than the Biggest Loser has provided as its tenth season wraps up.