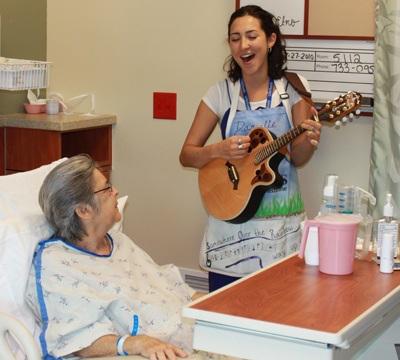 Senior Fellow Joy Jacobson, MFA, is a health care journalist, a medical editor, and a poet.
This week's edition of Studio 360 with Kurt Andersen, a radio broadcast produced by Public Radio International and WNYC, highlights the connection between art and medicine, which I explored in my last blog post. Andersen attempts to find answers to an important question: how do we know whether the arts are effective in improving health care and patient outcomes?
Among the fascinating segments was an interview with Jill Sonke, director of the Center for the Arts in Healthcare at the University of Florida in Gainesville. Sonke discusses research that has shown that the use of the arts, such as music therapy, in hospitals can reduce costs and improve outcomes. Listen for her discussion of how she answers the question, "Where's the science?"
A good example of a well-established program is Arts in Medicine at Shands Hospital, also at the University of Florida, where musicians, writers, dancers, and visual artists work with patients, visitors, and clinicians. The aim of the literary program is simply stated: "By sharing words, community is created," and therefore "no one is left alone in challenging terrain."
In continuing to look at these connections, I asked three poets who are nurses what poems matter to them and to tell us: How might a single work of art illuminate some aspect of health or health care.
Karen Roush, MSN, FNP, RN, is a poet, doctoral student in nursing, and founder of The Scholar's Voice, through which she instructs nurses in writing for publication. Karen chose "Tulips," by Sylvia Plath, a poem published posthumously in the now-classic collection Ariel. Says Karen:
"Tulips" captures so perfectly the experience of being a patient and does it in the beautiful and intense language Plath was so gifted at. The loss of personhood ("I have given my name and my day-clothes up to the nurses"), the disconnection from life that illness and pain can necessitate ("I didn't want any flowers, I only wanted / To lie with my hands turned up and be utterly empty"), and the sometimes unsettling ("The tulips are too red in the first place, they hurt me") pull back to the world, calling "from a country as far away as health." That last phrase alone is a masterpiece; it returns to me whenever, as patient, family member, or nurse, I find myself outside the borders of that "country."
Madeleine Mysko, MA, RN, is a widely published poet, fiction writer, and nurse. She chose "Apologies to My OB-GYN,"a poem by Rebecca Foust first published in the literary journal Margie and included in Dark Card, Foust's 2007 collection of poems dealing with her son's Asperger's syndrome. Madeleine says,
I admire the rhetorical formality of this poem—a sarcastic apology on the surface, a flash of anger back over time toward the time-stressed obstetrician and the entire, impersonal health care system with its "cost-benefit analyses." The flippancy in "Sorry" (as opposed to "I'm sorry") gains power as it is repeated down the stanzas, until the final stanza, when the mother/speaker provides a glimpse of the child now, years later and beyond the view of the neonatal ICU. The leap across the white space from "Sorry he took so much of your time" to "being so determined to live" is like a mask falling away, a powerful moment of dramatic irony.
Veneta Masson, MA, RN, is a primary care nurse and the author of the poetry collections Rehab at the Florida Avenue Grill and Clinician's Guide to the Soul, among other books. She chose William Stafford's "The Way It Is." Here it is in its entirety, reprinted by permission of Graywolf Press from Stafford's The Way It Is: New and Selected Poems.
There's a thread you follow. It goes among
things that change. But it doesn't change.
People wonder about what you are pursuing.
You have to explain about the thread.
But it is hard for others to see.
While you hold it you can't get lost.
Tragedies happen; people get hurt
or die; and you suffer and get old.
Nothing you do can stop time's unfolding.
You don't ever let go of the thread.
Veneta says:
"Many years ago, at the beginning of my nursing career, a poem of William Stafford's jumped off the page at me and changed my whole perspective on patient care. It's a short poem called "Strokes" that begins, "The left half of her world is gone…"

Now, over 40 years later, I'm learning another Stafford poem by heart. I don't know how it found me, but I'm grateful. "The Way It Is" describes the metaphorical thread we follow through life. It goes among things that change. But it doesn't change. While we hold it, we can't get lost. In sickness and in health, at work and at home, we all need to be reminded about the thread. I look at mine as it continues to spool out and I marvel.

The poem ends with a caution, "You don't ever let go of the thread." I don't intend to.