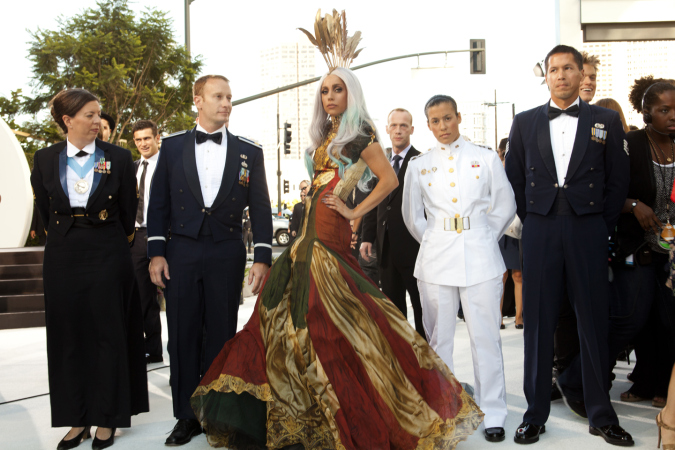 Stacey Vasquez was discharged by the military for violating the '"don't ask, don't tell" law and hopes to re-enlist if this vote gets repealed over the weekend.  Gay rights activists, congressional aides and supportive lawmakers are anticipating a successful vote this weekend to end the military's "don't ask, don't tell" law. A Washington Post slide show captures the history of this law starting 17 years ago when it was enacted to the Senate vote this weekend to repeal it.
In September 2010, a federal judge in California, Virginia A. Phillips, ruled that the "don't ask, don't tell" law violates the equal protection and First Amendment rights of service members. The latest Pentagon study on the impact of repealing "don't ask, don't tell" showed that most service members wouldn't care if they had to live and work alongside openly gay and lesbian peers and finds overturning DADT would not cause any long term problems for the American military.
DADT is a human rights issue and concerns the health of individuals, families and communities. In this article by Kenneth A. Katz, MD, "The Health Hazards of 'Don't Ask, Don't Tell: A View from the Clinic" published this month in RH Reality Check he reports how "the military's policy on homosexuality imperils the health of service members, the military, and the country, and it advocates for repeal of the policy on those grounds."  Dr. Katz also published an article on this issue in this month's New England Journal of Medicine.
As the Senate gets closer to a possible "Don't Ask, Don't Tell" vote, Lady Gaga is doing her part. Artist Lady Gaga spoke at a rally in support of repealing the military's "don't ask, don't tell" policy in Portland, Maine, in September to pressure the two moderate Republican senators there, Susan Collins and Olympia Snowe, to support the military's repeal of Don't Ask Don't Tell policy for gays in the armed services. In late November she released a video asking her fans to call their senators to support the repeal with special directions on how to be most effective in doing so.  Close to 3 million viewers have watched it.
[youtube=http://www.youtube.com/watch?v=GG5VK2lquEc&fs=1&hl=en_US]
This comment was posted on YouTube page with her "A message from Lady Gaga to the Senate September 16, 2010"
"They said black soldiers would hurt morale. Then they said female soldiers would hurt morale. Now gay soldiers hurt morale.
Here's a thought: Maybe war hurts morale. Does it matter what the race, gender or sexuality of the soldier was if he/she comes home in a box?"
It takes every voice to bring about change – thanks everyone who does this everyday to create a just and civil society. Let's hope the Senate acts to repeal DADT.
Barbara Glickstein, RN, MPH, MS is co-director of The Center for Health, Media and Policy