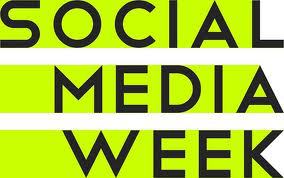 "Social Media Week (SMW) is a global platform that connects people, content, and conversation around emerging trends in social and mobile media. February 7-11 is the  fourth social media week conference since it's inception. It is being held in multi cities, is free, and supported by global and local sponsors.  This year it's focus was on how societies, cultures and economies around the world are becoming more integrated and more empowered through a global network of communication.
I attended a session titled, Health Tech Food , sponsored by Luminary Labs at the  The Paley Center for Media, one of the five sites, which they referred to as Content Hubs, where events are taking place in New York City. There were four short presentations by terrific speakers that set us up to get to work in our ideation workshops: open source health, food systems, the quantified self or mobile health. This excellent use of the talent attending this event made it one of the most thought-provoking learning sessions I've attended in a long time. Kudos to the design team. You can see five of the winning ideation teams ideas presented and captured by my Flip Camera work on CHMP's YouTube Channel here.
Barbara Glickstein is the Co-director of the Center for Health, Media and Policy.