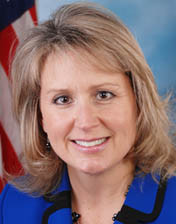 So is newly elected Congressional Representative Renee Ellmers out of touch with the experience of so many Americans with our health care system? In an interview with Kaiser Health News reporter Jessica Marcy, Ellmers talks about the perspective that she, a nurse, and her surgeon husband have had as health care professionals that have led her to vote in favor of repealing the Affordable Care Act (ACA). When asked what solutions she and other members of the Tea Party are proposing, she could only speak to repealing all or parts of the ACA and offered no other solutions. Her mantra was that all will be fine if we leave health care up to the private sector. Ellmers' concluding line is that this work needs to be done "so that we can continue the great health care system that we've had in this country."
I'm not sure what health care she's had, but health care is inaccessible outside of an emergency situation for over 50 million uninsured. For those of us who are covered, our health outcomes are not comparable to those produced by other nations that spend far less on health care than the US.  We know our health care system is broken, needs to be transformed, and is too costly (she does note the latter, but is not clear about how to lower costs without what's in the ACA).
She is in the minority of nurses in this country. The American Nurses Association and most national nursing organizations support the ACA because they know that, while it's not perfect and needs further refinement, it gets us moving in the right direction.
Diana J. Mason, PhD, RN, FAAN, Rudin Professor of Nursing