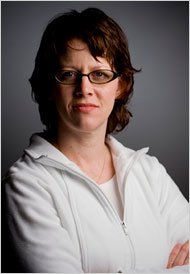 On March 18th, Theresa Brown spoke at the Hunter-Bellevue School of Nursing's Spring Forum after a reading of her writings that were adapted by playwright Abigail Hastings.  Brown earned a PhD in English from the University of Chicago and was teaching English at Tufts University when she began to question whether her work was providing her with the meaning and focus that she wanted. She decided to become a registered nurse and obtained a baccalaureate degree in nursing from the University of Pittsburgh. She assumed a position as a staff nurse on an oncology unit at the University of Pittsburgh Medical Center at Shadyside where she continues to practice today. Her book, Critical Care: A New Nurse's Reflections on Life, Death, and Everything in Between (Harper Collins) reveals the struggles and insanity of the first year of practice, when the learning curve is so steep that some new nurses quit before the first
year ends.
Brown' wrote a narrative for the New York Times Science section and was invited by Tara Parker Pope to write for the NY Times' Well blog.  She has written for CNN.com and is becoming a highly sought-after speaker.
On Thursday night, she spoke about the "why" question–the most frequently asked question she gets: Why did you decide to become a nurse? And, sometimes, Why are you staying in nursing now that your writing career has taken off? She reflected on the very nature of the question that suggests that someone would choose anything except nursing.  We don't ask it of phyisicias or lawyers (though, maybe we should).  The answer is not what's important. What's embedded in the question is.
Diana J. Mason, PhD, RN, FAAN, Rudin Professor of Nursing