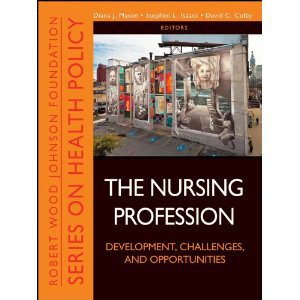 The Institute of Medicine's report on The Future of Nursing is a call to action for those who want to transform health care. It focuses on the nation's largest health profession–one that can be found in every health care setting and is crucial t0 the nation's aims of improving access to quality, safe, affordable, equitable health care.
But many key stakeholders outside of nursing view the profession through an old and limited lens. A new book, The Nursing Profession: Development,
Challenges, and Opportunities, is now available to help these stakeholders and others understand what today's nurses do, how the profession evolved, and the most important policy-related issues confronting the profession. And the timing is right. We are about to celebrate the one year anniversary of the IOM report and a time when there is movement on the national and state levels to implement the report's recommendations.  (Disclosure: I'm a strategic adviser for the Future of Nursing: Campaign for Action.)
This book is part of the Robert Wood Johnson Foundation Health Policy Book Series published by Jossey-Bass, and I'm pleased to join Stephen Isaacs and David Colby as co-editors.  The book includes an original chapter by me that provides the overview of the profession and important policy issues. This chapter is followed by reprints of classic and contemporary papers related to these issues. The major topics include:
Dealing with the nursing shortage
Educating and training nurses
Using advanced practice registered nurses to their fullest
Quality and cost of nursing care
Long-term and community-based care
Thoughts on gender and power
A vision for the future
We spent a great deal of time selecting the papers to reprint and started with a list that many of my colleagues and others recommended. In the end, we had to make some tough choices about which ones to cut to keep the book a manageable length.
While the book was intended for non-nurses, nursing students or prospective nursing students may find it helpful to understanding the field they choose to enter.  It's available on Jossey-Bass website and on Amazon.com.
I'd love to hear your thoughts on the book and who should read it.
Diana J. Mason, PhD, RN, FAAN, Rudin Professor of Nursing and Co-Director, CHMP