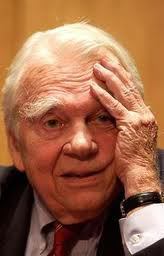 On Sunday night, Andy Rooney gave his last commentary on "60 Minutes" after being interviewed by Morley Safer about his career. Safer had the courage to ask Rooney about if he thought about death, given his age of 92. Here is the conversation:
Safer: It's not much fun growing old, is it?
Rooney: I hate it. I mean, I'm gonna die. And–it'd– that doesn't appeal to me at all.
Safer: Do you think about death?
Rooney: Oh, I do. I do think about it quite a bit.
Safer: And?
Rooney: I don't like it.
What I'd like to ask Rooney is whether he's filled out an advance directive and talked with those close to him about his preferences around end-of-life care and choices. I'll bet he has. He's a smart man.
Unfortunately, too many of us fail to have these conversations because it's not something Americans like to talk about. But personal and public conversations about the care we prefer when we're diagnosed with a terminal or advanced illness are crucial to ensuring that we have access to the care that will support as much as possible how we want to live our lives, including our last days. Without the public conversations, we can't develop the public and private policies to support such choices in end-of-life care.
On Friday, from 9:00 to 11:30, the American Academy of Nursing is sponsoring a webcast from the Kaiser Family Foundation in Washington, DC, on "Critical Conversation: Advanced Care Planning and Decision-making–Models that Work." I've had the pleasure of helping to plan this event and hope that you will join us via this link (it will go active at 8:50 AM):
http://mindmedia-live1.wm.llnwd.net/mindmedia_Live1
(Mac users will need to download and install Flip4Mac which can be found online for free at: http://dynamic.telestream.net/downloads/download-flip4macwmv.htm)
I hope you'll join in on this critical conversation. Maybe Andy Rooney will call in.
Diana J. Mason, PhD, RN, FAAN, Rudin Professor of Nursing and Co-Director, CHMP