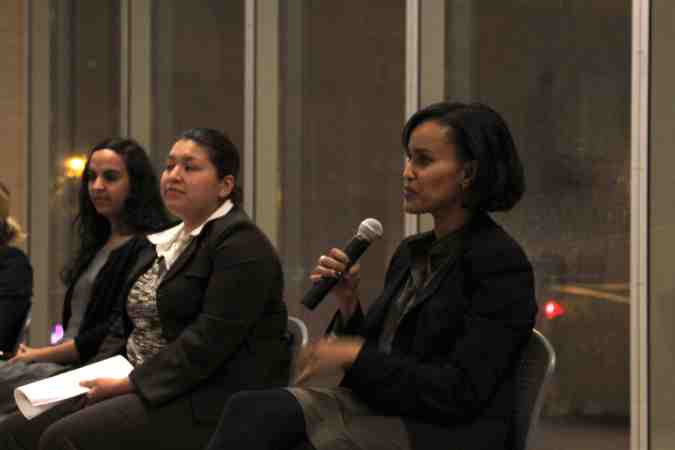 On Wednesday, October 19 CHMP's HEALTH IN FILM & NEW MEDIA series screened of ALL OF US, a documentary about the social factors that put women of color at risk for HIV. The event was held at the new CUNY School of Public Health in East Harlem. Our audience included community members, students, faculty, media and health professionals and others. It was a moving and thought-provoking event for all who attended. See photos more photos HERE.

ALL OF US follows three women in the Bronx, Dr. Mehret Mandefro and two of her patients, Chevelle and Tara. After the screening we had two surprise guests – Mehret and Chevelle! They joined our discussion and gave updates on their lives eight years after the making of the film. Chevelle continues work as a health educator. She also gave us a report on her son Robert Jr. (who we get to know in the film)! Mehret is a force in the public health and medical community, a White House Fellow (watch Mehret on the news here) and the Founder of TruthAid, a non-profit and educational empowerment organization. The organization grew from her work in the Bronx and her own experience of the challenges women face communicating with partners about sex and protection.
Our post-screening panelists Emily Abt, Juhie Bhatia and Valerie León lead a group discussion about topics including León's domestic violence prevention work in East Harlem, Bhatia's perspective on reporting on women's health issues, particularly HIV and abuse, and Emily's experience with the filmmaking and editing process. ALL OF US took four years to make.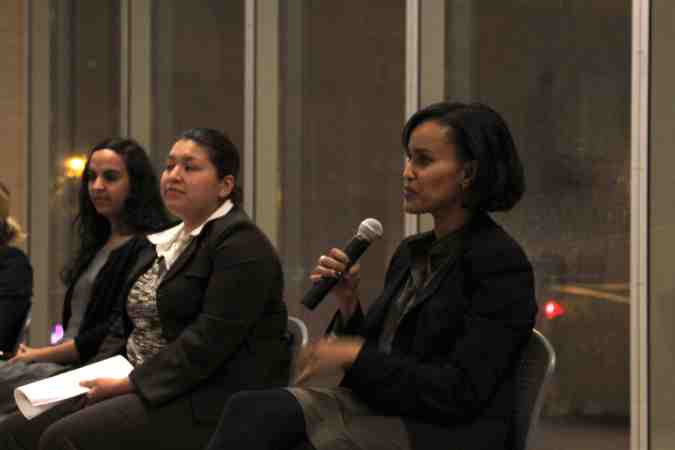 Here are reactions from event attendees:
Charmaine Ruddock of Bronx Health REACH says: "the thought that has stuck with me from my viewing of the film was the fact that it awakened me from a long held position that HIV/AIDS is not a concern of mine.  As I viewed the film it dawned on me that even if I wasn't in a high risk group, AIDS is a real concern for black women irrespective of ones socio-economic status.  To the point raised about being told that there isn't an audience for media pieces on AIDS my response is, 'Yes, there is".  I represent an audience who are aware of the statistics but have not been given a real feel for the story of  HIV/AIDS and its impact on Sisters.  The film not only provided a narrative to go along with the statistics but a subtext was a challenge laid down…What am I going to do to help?"
Barbara Berney, of the Urban Health Program at CUNY/Hunter College was moved by "The impact that doing the project and making the film had on all the women involved, the patients, the doctors, the filmmaker, their friends. And how it reminded me of the power of women's groups, the kind we had in the 70s that give us strength and knowledge and power."
Join us for our next film in the fall series: THE WAITING ROOM – Thursday, Nov 17, 2011 at 6PM – 2180 Third Ave at 119th Street, auditorium, 2nd floor