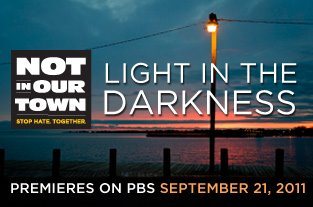 Center for Health, Media & Policy to Co-host Screening and Discussion of Not In Our Town: Light in the Darkness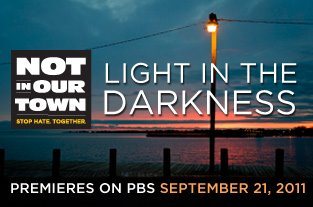 Not In Our Town Anti Hate Discussions Held Nationwide
 What:  Not In Our Town: Light in the Darkness Documentary Screening and Discussion
When: Wednesday, December 7, 2011

6:30 PM to 8:30 PM EST
6:30: Light hors d'oeuvres
7:00: Screening begins
Where:   Museum of Arts and Design
2 Columbus Circle
New York, NY

Center for Health, Media & Policy  is co-hosting a screening and public discussion of a new PBS documentary, NotInOurTown: LightintheDarkness, at the Museum of Arts and Design on Wednesday, December 7th at 6:30 PM.
Not In Our Town: Light in the Darkness tells the story of residents of a Long Island village taking action after a local immigrant is killed in a hate crime attack by seven teenagers. While starkly revealing the trauma of hate, the film provides a blueprint for people who want to do something before intolerance turns to violence.
The film screening will be followed by a discussion about what local residents can do to stop hate in New York City and our surrounding communities.
The screening in New York City is  one of 200 screenings hosted nationwide as part of the Not In Our  Town Inclusive Communities Campaign.  From Carmichael, Idaho to Fort Myers, Florida, a cross border event in El Paso,Texas and Juarez, Mexico, Long Island, New York to Pasadena, California,  Community groups, police departments, libraries, faith groups and civic organizations are convening events  that will help find ways to prevent hate crimes and anti-immigrant violence. WNET is one of many public media stations  and national partners, including faith-based organizations, the Department of Justice Community-Oriented Policing Services Office, National League of Cities, National Hispanic Media Coalition, and Welcoming America, are using the film to initiate dialogue about intolerance in their communities.
RSVP HERE
About the Film
In 2008, a series of attacks against Latino residents of Patchogue, New York culminated with the hate crime killing of Marcelo Lucero, an Ecuadorian immigrant who had lived in the Long Island village for 13 years. Seven local teenagers were arrested for the attack and one was charged with murder.  Over a two-year period, the story follows Mayor Paul Pontieri, the victim's brother Joselo Lucero, and Patchogue residents as they openly address the underlying causes of the violence, work to heal divisions, and begin taking steps to ensure everyone in their village will be safe and respected.
 Not In Our Town:  Stop Hate. Together.
Not In Our Town highlights communities coming together to stop hate. Developed by The Working Group in 1995, Not In Our Town began with a PBS documentary that told the story of how people in Billings, Montana joined together to respond to a series of hate crimes in their town. This simple, powerful story of people banding together struck a chord with audiences, and created a model that inspired viewers around the country to hold their own campaigns against intolerance.
For more information about Not In Our Town: Light in the Darkness, including the film trailer, discussion guides, and press materials, visit NIOT.orgor PBS.org/NIOT.
###