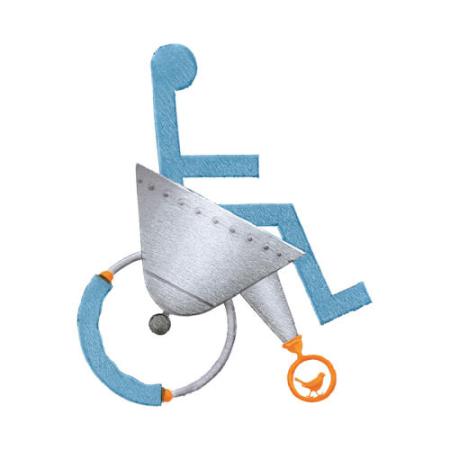 As a fan of both good wine and design, when I turned to the Wall Street Journal's wine columnist, Lettie Teague's column, Drinking with Michael Graves, I thought bingo! here comes a good read.   I'm a big Michael Graves fan.  We own a Michael Grave's Alessi teakettle with a red bird that tweets (not the Twitter-kind) when the water has boiled. He has designed 1000s of objects (for Target too), buildings, and public spaces, but Ms. Teague mentions the teakettle in the first paragraph. It's a favorite of many.
There's a wonderful photo of him in a dark purple shirt and red vest sitting in a high-back black upholstered chair at a table topped with two bottles of wine and several half-filled wine glasses. He's holding up a glass of red wine and has a warm smile on his face.  About a third of the way into the article I learn that nine years ago Mr. Graves suffered with an infection that left him partially paralyzed. It's mentioned in the context of how his illness has limited his wine to one glass per day. This sentence forced my eye back to the photo – my lens has changed and now I see that the high-backed chair is a wheelchair not a designer kitchen chair.  My focus shifted from the wine to this man's current health status, his abilities and disabilities. Now, the wine took second stage.
We learn about his vineyard and the wineries he's designed but I want to hear more about how he lives with his disability. Then there's the sentence that mentions Mr. Graves is now designing products for people with disabilities.  I finish the column and head to my laptop to Google and find a link to his latest product line, Michael Graves Solutions. In 2009, Michael Graves formed a design partnership with Stryker Medical to design the patient hospital room. There are images of the new line that show his distinct identity and are worth checking out.
Journalist John Hockenberry, who has been paralyzed for 30 years after a car accident, writes about his relationship with Graves in The Re-Education of Michael Graves. Here's a quote from Graces from this article:
"People who become disabled have to radically redesign their outlook about the physical world," Graves says, remembering the first days after he was out of danger and learning to live with paralysis. "They redesign their sense of privacy and their sense of independence. Yet in the products they have to use, design has abandoned them."
He already has a line of heating pads and shower seats with much more to come.
Mr. Graves, thank you for the beauty of design and function you give to the world  and for expanding your reach to include those with mobility challenges.