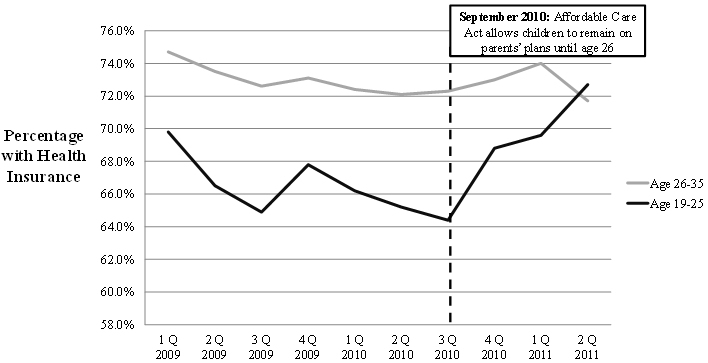 Yesterday, the Department of Health and Human Services released new data from the National Center for Health Statistics at the Centers for Disease Control and Prevention (CDC) illustrating that the Affordable Care Act helped 2.5 million additional young adults get health insurance. The young-adult provision, effective Jan. 1 for employers with calendar-year plans, was one of the first Patient Protection and Affordable Care Act mandates to go into effect, requiring employers to extend coverage to employees' adult children up to age 26.  This is making a difference in a population that is largely uninsured.  I frequently find myself in conversations with folks who aren't familiar with this benefit of the ACA.  This media update can continue to impact the public's understanding of the ACA.
Recently, I met Joe Shure, through The Roosevelt Institute Pipeline, where he is a Pipeline Fellow. He's Associate Director and COO, at The Intersect Fund, a New Brunswick, New Jersey-based non-profit organization offering a host of services to low-income entrepreneurs in the area. He's also a journalist and writes a business column for BusinessNewsDaily providing tips for small businesses.  Over a cappuccino (he had Earl Grey Tea) and the best croissant in NYC (Ceci-Cela Patisserie) I learned a great deal about how his organization supports low-income entrepreneurs, many of them new immigrants. That led to a conversation about their health needs and access to health care. Joe mentioned a column he published in June in BusinessNewsDaily, Parent's Health Insurance a Lifeline for Young Entrepreneurs. He writes, "Removing the cost of insurance from these would-be business owners' financial obligations freed capital to invest in businesses and reduce the risk of entrepreneurship." Read the full article here.
This provision of the ACA is supporting new economic growth – perhaps small but in a significant way for a segment of our young adults in the midst of tough economic times and a tight job market.
Barbara Glickstein is co-director of the Center for Health, Media & Policy and parent to two young adults who are benefiting from this ACA provision.