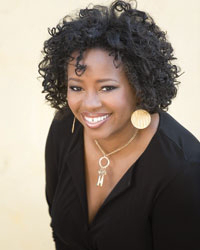 Yanick Rice Lamb's mission is to give voice to the voiceless and share the gift of knowledge through the written word. An award-winning journalist and author, Yanick has had an impressive career. She is associate publisher and editorial director of Heart & Soul, the health and fitness bible for black women, with a readership of 1.5 million. She also shares her expertise at Howard University, where she is an associate professor, coordinator of the Print/Online Journalism Sequence and adviser to 101 Magazine.
She was also at the helm of Heart & Soul under Vanguarde Media Inc. and the BET Publishing Group, where she was a vice president and editorial director following her success as founding editor of BET Weekend. Her editorial vision led to BET Weekend becoming the second-largest publication targeted to African Americans. Under her leadership, the publication's circulation increased nearly 40 percent, from 800,000 to 1.3 million in just three years. She was also an editor-at-large at Essence and a contributing editor for Emerge.
Previously, Yanick worked for the New York Times Company for 10 years in various newspaper roles, including assistant style editor, deputy home and living editor, assistant editor of Connecticut Weekly, metropolitan copy editor and a layout editor on the news desk and senior editor at Child magazine. She was also a copy editor at The Atlanta Journal-Constitution and a reporter at The Toledo Blade. Yanick and her staffs have won numerous editorial and design awards, including a Folio: Editorial Excellence Award and five Salute to Excellence Awards from the National Association of Black Journalists. Her individual honors include a McDonald's Black History Maker of Today Award in Journalism, a Health Performance Fellowship from the Association of Health Care Journalists and the Commonwealth Fund, a Cancer Issues Fellowship from the National Press Foundation, a Knight Digital Media Center fellowship and an entrepreneurial fellowship from UNITY Journalists of Color and the Ford Foundation to launch Fully-Connected.com. Lamb is also a former president of the New York Association of Black Journalists.
Yanick is co-author of Born to Win: The Authorized Biography of Althea Gibson (Wiley 2004), Rise & Fly: Tall Tales and Mostly True Rules of Bid Whist (Random House/Crown, 2005) and The Spirit of African Design (Clarkson/Potter, 1996). She was a contributor to Aunties: 35 Writers Celebrate Their Other Mother (Ballantine Books, 2004); Health & Healing for African-Americans (Rodale, 1997); and Sisterfriend Soul Journeys (PromoTrends, 2000). She is completing her debut novel, Nursing Wounds.
A native of Akron, Ohio, Yanick holds a bachelor's in journalism from Ohio State University and a master's in business administration from Howard University.