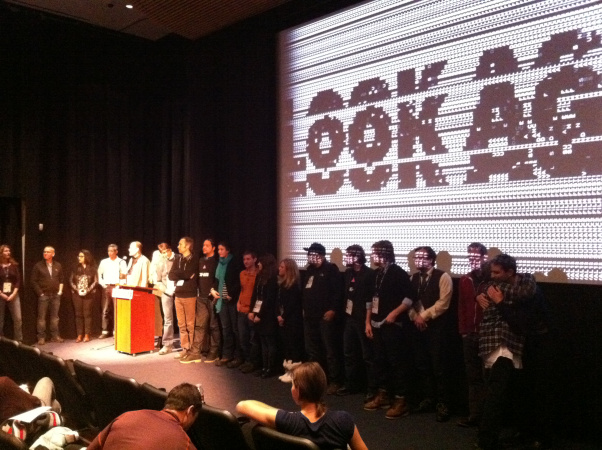 The most moving film I've seen at the Sundance Film Festival is HOW TO SURVIVE A PLAGUE by David France. The film chronicles ACT-UP (AIDS Coalition to Unleash Power) the organization responsible for moving AIDS from a death sentence to a manageable condition. Three years ago France, an accomplished journalist and long time AIDS activist decided it was time to make a film to "tell the story of heros, of what we did with AIDS and why it was so remarkable and historic."
How to Survive a Plague uses mostly archival footage shot over years of ACT UP meetings, actions and demonstrations often by non-professional videographers. The result is a raw, in-the-moment film. The audience is transported to New York City in the 80's where gay men were dying and nobody understood the disease or how to treat it. This coalition, many of whom were people living with AIDS, confronted city, state and federal government offices (including the FDA and the NIH) and demanded more funding and action around the disease. The group (a collection of young men and women from varied backgrounds) embarked on rigorous self-study of the sciences – virology, immunology, pharmacology – and wrote their own National AIDS Treatment Agenda. We see them take the agenda to Washington DC, to drug companies and conferences in riveting sequences of direct action outside offices and inside meeting rooms.
How to Survive a Plague is a powerful example for activists today. There is much to learn from ACT UP about how to develop innovative and successful social justice movements around any issue. Director David France talks beautifully about why his film is a story for the ages: "One of my goals with the film was to position AIDS activism in the timeline of great civil rights movements, where it certainly belongs and for some reason hasn't been inducted. So that's what I wanted to do, the induction, and to show that like civil rights, like the apartheid struggle, it resonates with the human soul. You can identify with these people (the activists) in a fundamental human way. That's what I mean when I say it's a story for the ages. I think it should be remembered."
Everyone should see this masterful and beautiful film. I was honored to be at the premiere where many of the living ACT UP activists in the film joined the Q&A. The film will be released shortly – hopefully in theaters and on TV.
Senior Fellow Hannah Rosenzweig, MPH is in snowy Park City, Utah reporting on films at Sundance 2012 for the Center for Health, Media & Policy.