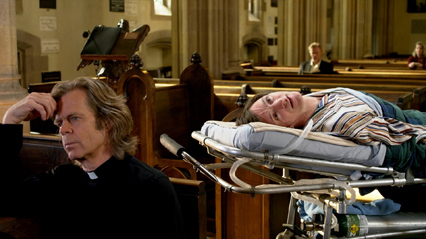 The two mythologies about disabled people break down to one: we can't do anything, or two: we can do everything. But the truth is, we're just human. –Mark O'Brien
I arrived at Sundance with a list of documentaries about traditional health issues. I quickly realized that so many of the films at the festival – documentaries and narratives – deal with "health" in its broadest sense. They may not be about a disease or a health policy issue, but they explore what it means to be fully human and fulfill dreams or encourage us to examine the many parts of ourselves. These too are important aspects of health. On the advice of Caroline Libresco, a programmer at the Sundance Film Festival, I expanded my documentary list to include narrative features and got a ticket for THE SURROGATE, a film by Ben Lewin starring Helen Hunt, John Hawkes and William H. Macy. THE SURROGATE is based on the true story of Mark O'Brien (played by John Hawkes) a poet and journalist who was confined to an iron lung and largely paralyzed after suffering polio as a child. At 38, he decides to lose his virginity with the help of a sex surrogate (Helen Hunt). It is a sweet and often funny portrayal of a man who, because of his condition and his upbringing, thought for many years he should not, or could not, have sex. With the help of a therapist, some supportive friends and most importantly, Helen Hunt's sex surrogate character, he learns to fully inhabit his body and connect to others both physically and emotionally.
John Hawkes is incredible in his portrayal of Mark O'Brien. Hunt and Macy also give great performances. The movie has a lovely vibe, even if the pacing is a bit slow. It's a rare chance (for many of us) to spend time with someone with such limited physical ability. Mark must lie horizontally at all times (he can't sit up) – whether he's home inside his iron lung or outside being pushed on a gurney.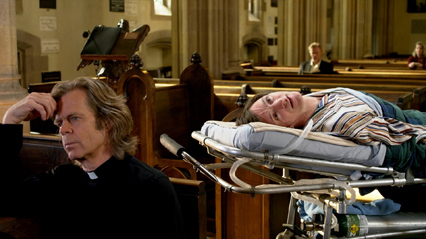 The real Mark O'Brien wrote about losing his virginity in an article called "On Seeing a Sex Surrogate" published in 1990. He passed away in 1999. An Academy-Award winning documentary about Mark, BREATHING LESSONS, was made by Jessica Yu. You can watch it in full (it's 35 mins) on the Snag Films website. A video interview with SURROGATE's director, Ben Lewin can be seen here. You'll be able to see the film in theaters soon – it was picked up yesterday by Fox Searchlight Pictures, great news for the filmmakers and for audiences.
Senior Fellow Hannah Rosenzweig, MPH is in snowy Park City, Utah reporting on films at Sundance 2012 for the Center for Health, Media & Policy.