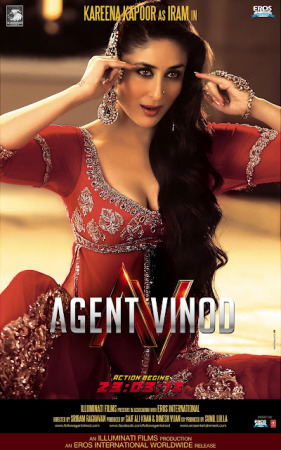 The first official posters of the upcoming spy film Agent Vinod starring Bollywood megastars Saif Ali Khan and Kareena Kapoor are out!
The first poster depicts Saif Ali Khan in "his character" as a classy and masculine spy "with a pistol in each hand". As the Hindustan Times put it "the poster gives the feel of a Bond film" gone Bollywood.
The second poster portrays a still of Kareena Kapoor during her mujra preformance. As stated by Gather Celeb News Channel, Kareena "certainly looks the part, clad in a pink gharara and putting on a sultry stare".
The movie poster is the quintessence of seduction. With her tousled chocolate hair, flawless tan skin, delicately blushed cheeks, enticing and inviting blue eyes that lock yours, and slightly parted full luscious rose-pink lips, Kareena is at once alluring, desirable, cherubic, and provocatively tempting. She embodies the limited standard of beauty-youthful, light-skinned, and slender- all of which are characteristics that women seek to attain.
The subtle use of natural light allows for dispersed illumination in the picture. The object of focus-Kareena-is light and luminous while on the contrary all else is comparatively dark. Furthermore, the soft diffused light makes the photo appear natural and realistic. This allows the viewer to believe that however fantasy-like the image may appear it is in effect attainable.
Kareena is dressed in a very revealing fashion. She is objectified to such a level that she is basically reduced to body parts. This renders her present solely to satisfy men-in the most physical sense. Her apparent sexuality is trying to help sell the product [the movie Agent Vinod]. In actuality though, one has to wonder whether the advertisement is aiming to sell the product or the woman.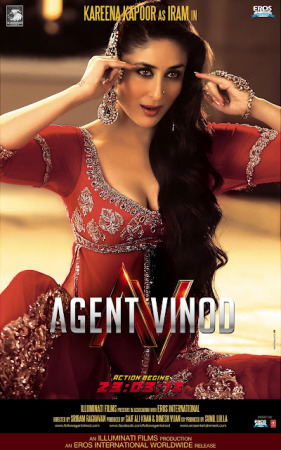 The fact that Kareena is pictured as doll-like, looking up at the camera all wide-eyed with pouting lips infantilizes her. Infantilizing women in advertisements like so confines women from growing up. Thus, they are constantly controlled.
Her portrayal as being submissive and inferior supports the stereotype of women being vulnerable with their male counterparts supposed to be aggressive and dominant. Images as such (whether intentionally or accidentally) promote/condone violence that is gender-based, with women as victims and men as perpetrators.
People often wonder how to challenge such pervasive ideas about gender-based violence. Innovative filmmaker Nancy Schwartzman has found one way.
Seeking to call attention to gender-based violence, Schwartzman has created a critically acclaimed short film, THE LINE and it's companion media campaign to empower young leaders to end sexual violence. Together, the film and new media effort are known as The Line Campaign, and the campaign has gained quite a bit of positive press for its efforts.
Schwartman presents her film and new media campaign on February 23, 2012 at the CUNY-School of Public Health at Hunter College, sponsored by the Center for Health, Media and Policy.  The event is free, but organizers ask that you RSVP as seating is limited. You can RSVP to: centermediahealthpolicy [at] gmail [dot] com.
~ Guest blogger Monica Thaller is a BA student at Hunter College. She is pursuing a double-major in Religion and Community Health. She blogs at Desi Health & Wellness, where this post originally appeared.