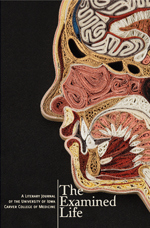 Joy Jacobson is the CHMP's poet-in-residence. 
Last week CHMP senior fellow Jim Stubenrauch and I traveled to Iowa City for a conference called The Examined Life: Writing, Humanities, and the Art of Medicine. We attended panel discussions, writing workshops, literary readings, and other presentations by physicians, writers, nurses, medical students, patients, and others exploring the ways that literature and health care can intersect. It was exciting, sometimes downright thrilling, to be in Iowa City, a UNESCO City of Literature, and to hear what others from around the country and around the world have been doing to nurture these intersections.
The keynote address was delivered by Philip Levine, the current U.S. Poet Laureate. Levine has published 20 books of poems and won nearly every award we have to bestow on a poet. But he's produced a body of work not overly concerned with illness or health care. So what was he doing at this conference? It's a good question, one that raises another: can poetry have a vital role in health care?
Levine opened his reading with a poem originally published in 1980, "The Doctor of Starlight." In it, a man visits his doctor with an odd ailment: "a tiny star above my heart." The poem proceeds, through rhythmic short lines, to describe a medical exam in which the doctor asks his patient what he does for work. "I make the glare / for lightbulbs," the patient says. It's an extraordinary statement made ordinary by the workaday diction of the poem. Finally, the doctor and a strong-handed nurse pluck the star from the patient's chest. "What does it mean?" the patient asks the doctor, and the doctor replies:
"Mean?" he said, dabbing the place
with something cool and liquid,
and all the lights were blinking on
and off, or perhaps my eyes were
opening and closing. "Mean?" he said,
"It could mean this is who you are."
Levine is an entertainer, a storyteller, both in his poems and in his reading of his poems. (His between-poem banter itself rose to the level of art.) And in its realistic and surrealistic depiction of a medical encounter, "The Doctor of Starlight" reveals something about illness—and the distress surrounding illness—that health care does not always acknowledge: that our bodies are glorious, even when there's something "wrong."
That awareness ran as a subtle undercurrent through many of the presentations I heard last week. Nellie Hermann, author of the novel A Cure for Grief and a faculty member at Columbia University's narrative medicine program, summed up, for me, why we need conferences like this. "Writing creatively," she said in her lecture, "gives us access to parts of ourselves we might not access otherwise."