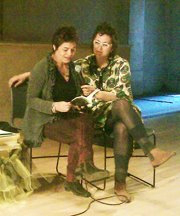 On Sunday, May 6th I was invited to be in conversation with Deborah Jiang Stein, the founder of the UnPrison Project and author of Even Tough Girls Wear Tutus – Inside the World of a Woman Born in Prison published by Cell 7 Media. Ms. Jiang Stein was previously a guest on Healthstyles this past fall.
She opened the conversation directing these questions to the audience and asked them to raise there hands if they knew someone who has been in prison? someone who has an issue with substance use? was adopted or in foster care? All but one person raised their hand.
Deborah Jiang Stein's book covers many issues. Here's some gems from her book.
Must be important if it's hidden. Secret letter reveals heroin-addicted prison mother. Born in prison is a metaphor for all human beings. One in five Americans will be multiracial by 2050. 
Deborah Jiang Stein says  "My work as a speaker is not a verb. It's a social justice and spiritual act." 
This conversation was one of the most heightened one I'd had in years.
Barbara Glickstein is co-director of CHMP.