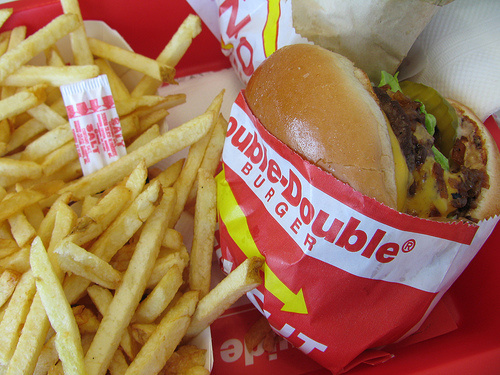 The Walt Disney Company  took a huge step forward in fighting child obesity on Tuesday when it announced a ban on junk food commercials on its networks and to serving healthier food in its theme parks. Everyone from child nutrition experts to first lady Michelle Obama  called it a "game changing" move.
Disney's announcement was anything but a Mickey Mouse strategy. No corporation, especially as one as large as Disney, takes the risk of alienating advertisers and vendors lightly. Essentially they have now tossed out a massive challenge to other kid-centric TV networks, theme parks like Hershey, and similar youth-oriented corporations: step up and do the same.
Disney already had some guidelines and programs in place — a nutrition policy enacted by the company in 2006 put "Healthy Living" at the forefront of food and activities features on their networks, and provided nutritional information on food served in their parks.
The Disney Channel does not sell advertising, but Disney Junior and Disney HD do generate ad revenue and it's likely they will lose some business. However, analysts say it's a small tradeoff for a global company to strongly position themselves as a health-friendly choice in the minds of millions of consumers.This move, which will be phased in through 2015, not only gives them great PR, but sets them up as a corporate leader in a whole new category – family health.
It also strengthens Disney's voice in the policy arena (and having the First Lady at your press conference doesn't hurt either). Saturday morning cartoon shows aired on Disney-owned affiliates of ABC must also abide by the new rules, however ABC Family and prime-time family shows are exempt.
Critics say Disney's move won't impact obesity, citing figures from prior efforts for the kid-TV industry to self-reglulate. Yet even if this effort only slightly improves children's eating habits that's still better than doing nothing. The latest figures from The Centers for Disease Control and Prevention (CDC) point to rising incidence of childhood obesity – nearly a third of children in the U.S. are overweight or obese – and the explosion of Type 2 diabetes diagnosed at younger ages.
According to the American Psychological Association
Research has found strong associations between increases in advertising for non-nutritious foods and rates of childhood obesity.
Their research shows that 8 to 18-year-olds consume multiple media, frequently using more than one format at a time,  and spend more waking time (44.5 hours per week) in front of computer, television, and game screens than any other activity.
So if kids are spending so much time ingesting media, shouldn't they be getting some positive messages about ingesting snacks? Would you rather they see an ad for Fruit Loops or fresh fruit?
On the other hand, I have to agree with a reader comment on an Advertising Age story that challenges Disney to create more "active" entertainment programming that encourages kids to move around while watching TV. There was another commenter who asserted it wasn't watching junk food ads that contributed to childhood obesity, it was that parents allow kids to sit in front of a screen for hours at a time. Both commenters raise valid points.
Regardless of the blame game, Disney raised the bar when it comes to marketing certain foods to kids. The media giant has positioned itself to parents as the "healthy choice" in TV viewing, theme park visiting, magazine reading and even supermarket food shopping (with Mickey-endorsed, nutritionally sound products).
Fighting childhood obesity isn't a one-stop solution. It takes efforts by everyone — parents, educators, corporations, and marketers too – to pound the messages home. If Disney wants to promote healthier eating habits, why not?