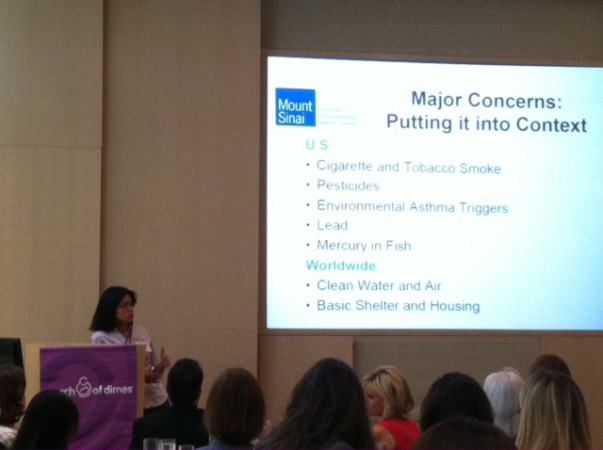 Zoe Goldberg is an intern at CHMP.
On June 14th I completed my first official intern assignment in attending the March of Dimes National Communications Advisory Council Luncheon! Held in the Conde Nast building, the topic, "Pregnancy, Health and the Environment," was discussed by the moderator, Fox and Friends' Gretchen Carlson, as well as the two speakers: Dr. Maida Galvez from the Mount Sinai School of Medicine and Dr. Frederica Perera from the Columbia Center for Children's Environmental Health.
Dr. Perera shared insights drawn from multiple research projects. She noted that while environmental problems aren't the only problem in pregnancies, they are a preventable problem, and therefore worth learning about. She listed the top problematic exposures: PAH/air pollution, pesticides, BPA, phthalates, metals, and water pollutants. The outcomes of these exposures include birth outcomes, neurodevelopment, obesity/metabolic disorders, asthma, and cancer risk markers. Dr. Perera described the process of epigenetic alteration and how these environmental factors can affect the DNA of a fetus when it's still developing. One cool technique being used to study the effects of environmental factors on pregnancy and children's health is pregnant women wearing air sampling backpacks, which have shown that many of these harmful environmental factors are present in the air around pregnant women. Chlorpyrifos, a chemical found in most pesticides, can result in low birth weight, low head circumference, developmental deficits, and attention problems, and was found in 70-75% of the women monitored. Once this statistic was exposed, the US Environmental Protection Agency banned the residential use of chlorpyrifos in 2001 and the positive effects were seen immediately, showing that while many of these statistics are disheartening, change can be made and we should not give up on trying to fix these problems.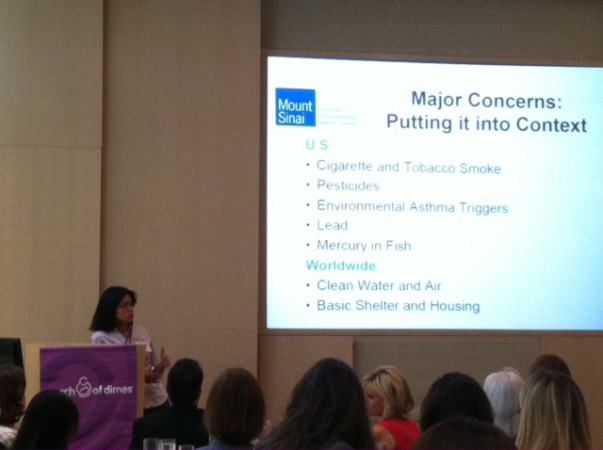 Dr. Galvez spoke next and provided the attendees with a constructive approach to addressing the problem. She said that the biggest piece of advice she gives to new or soon-to-be parents is to use common sense and try to find evidence-based information. She also urges people to err on the side of caution. Dr. Galvez taught us about safe and unsafe plastics– #'s 1, 2, 4, and 5 are safe, #'s 3, 6, and 7 can contain phthalates or BPA. She showed us some online resources that can serve as a guide for which fish are safe and which contain lots of mercury. However, Dr. Galvez explained that tobacco is still the biggest and deadliest among harmful environmental factors. She concluded by urging the attendees to take whatever action we can in urging the government to pass the Safe Chemicals Act, which would require all chemicals to be proven safe for children before being sold.
These two experts provided me with lots of knowledge and awareness about this important topic that affects babies- my favorite kind of people.
Zoe Goldberg
Photos: Zoe Goldberg