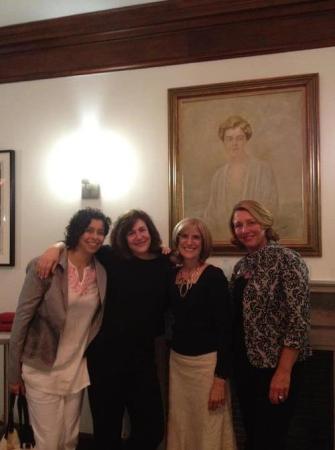 The lights went up, there was applause, some wiped away tears, and everyone was moved to a stilled silence. The screening of Service: When Women Come Marching Home, a multimedia documentary, on Tuesday, June 26th was a powerful event co-sponsored by CHMP and  Roosevelt House Public Policy Institute at Hunter College. Following the screening there was a panel discussion with the filmmakers, Marcia Rock and Patricia Lee Stotter, Anu Bhagwati, Executive Director of Service Women's Action Network (SWAN), and Joanne Dittes Yepsen, Saratoga County Supervisor for Saratoga Springs, and a Principal of Critical Needs.
We packed the house – plus an overflow room of 30+ more people connected by technology to the screening and the 115 people below in the state-of-the art  auditorium. We never opened the waiting list.  On this evening we formed a community,  just for a few hours, but during these hours together we listened deeply to the panelists, we engaged in civic discourse and critical questions were raised. We learned about policies that are not enforced that impact  women in active duty and when they return home as veterans.  We learned about new legislation being introduced by Congresswoman Jackie Speier (D-CA) designed to combat sexual assault in the military, Sexual Assault Training Oversight and Prevention Act, or STOP. Last week, Sen. Patty Murray, introduced Women Veterans and Other Health Care Improvement Act of 2012 to expand fertility coverage for female veterans and severely wounded service members, to include options such as surrogate pregnancies and advanced reproductive health services for those unable to bear children naturally.
Service: When Women Come Marching Home introduced us to  women who fought in the wars of Iraq and Afghanistan. Many of them now struggle to recover from devastating physical injuries as well as invisible injuries such as trauma from war including PTSD and military sexual trauma. They also struggle with such issues as intimacy, spiritual crises and finding their post-war identity. These needs are critical but remain ignored or unmet.
This screening was originally scheduled for Tuesday, June 19th until we received news from the filmmakers that Senator Patty Murray D-Wash, Chairwoman, Senate Committee on Veterans Affairs invited them and the women veterans featured in Service to Washington, DC to screen the film on Capitol Hill for members of Congress and their staffs .  The screening was co-hosted by Sens. Amy Klobuchar, D-Minn.; Susan Collins, R-Maine; and Lisa Murkowski, R-Alaska. Women from the film were invited to the screening and spoke afterwards. The room was packed with military officials in uniform, representatives, leaders of advocacy organizations and media. I attended this event and witnessed the powerful impact this film and the women veterans had on that audience.
The center of this film is a relationship – between our women veterans and you. Social change and public policy initiatives are enacted because people are moved, they contact their representatives and find out where they are on the issue and express their position to their elected officials. People want to do something.  During the reception several people asked me how they could get involved – I walked with them to the women veterans attending and made the introduction.
The leaders of our nation and those who lead the military must act responsibly and address the 21st century needs of a growing women military.  Women who choose to serve and love what they do deserve no less.