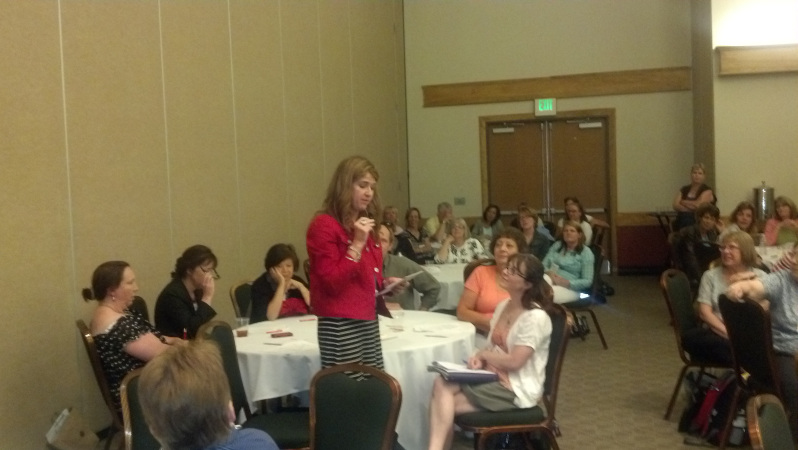 I am posting this from 30,000 feet up on a flight returning from the National Symposium of Nurse Practitioners held in Cooper Mountain Colorado. Wow. The Rocky Mountains are gorgeous. This city gal opened the door to her patio the first evening and a baby squirrel made her way in to my surprise. A loud shoo sent her running out to my relief. There's just so much nature I can handle.
I was honored to keynote this group of 1000 Nurse Practitioners (NPs). My talk, "Adapt & Thrive: Health Care in the Digital Era" (shout out of thanks to CHMP NAC member Pat Thomas who helped me coin that title). My message- new media is where NPs can bring their voices. Their voices are needed and the digital media landscape is where they can address issues that will influence healthy public policy, educate the public and advocate to remove barriers that limit their scope of practice, create equity in reimbursement in both federal and private insurance programs and gain access to more federal funding to create innovative models of care in communities across the United States.
Did you know that in some states NPSs cannot refer their patients to a physical therapist or make a referral to home care ? I heard stories from NPs about how these barriers impact patient's lives. These delays keep  elders in long term care and rehab facilities longer than necessary. One NP from rural Oregon told me that her supervising physician traveled to her practice every two weeks to sign medical orders keeping patients in levels of care that are clinically inappropriate and costly. Imagine if this was you waiting to be discharged to home or someone in your family? The desire to be at home recovering and healing is one that must be supported to improve healthy outcomes and reduce costs. This must change.
The important role that NPs can have in educating their communities about the benefits of the Patient Protection and Affordable Care Act was a big part of the conversation over these past two days. The media coverage of health care reform has been highly politicized. Nurse Practitioners can translate the ACA so the public can better understand current provisions that benefit them as well as future provisions to be rolled out. The November elections will determine a great deal of how much movement forward can happen based on funding these next stages of the ACA.
There was also a great deal of buzz about the recently announced merger of the American Academy of Nurse Practitioners and the American College of Nurse Practitioners at the end of June. This united front will certainly have an impact on the profession going forward.
I was also there to offer an "Evelyn Woods" version of CHMP's Nurse Messenger Media and Leadership Training Workshop (a reference I had to explain to some attendees when I noticed they didn't get my joke). Diana Mason and I usually co-lead these trainings over a full day or two-day period. We're always up for the challenge to engage nurses so their voices can be heard in both traditional and digital media. The 84 NPs at this workshop showed up ready to get down to business. After a brief recount of media messaging they were put to work.  Each table of 10 decided on an issue they'd address in a mock press conference. They had 19 minutes to decide, prep, and to deliver to the rest of the group. And they did splendidly. They made giant leaps forward as media makers. Since yesterday, ten people signed on to Twitter and are using the hashtag #nnps12 and tweeting the conference sessions  Several people signed on to Facebook.
What an extraordinary  group of primary health care providers nurse practitioners are. They are experts, knowledgeable, compassionate visionary clinicians working every day to promote the health of the public.
We all made progress together on many fronts on Copper Mountain.