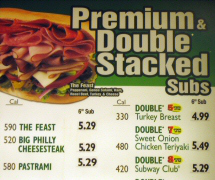 Senior Fellow, May May Leung, PhD, RD, is an assistant professor at the CUNY School of Public Health at Hunter College.  Her research expertise includes the development and evaluation of innovative health communication and community-based interventions to prevent childhood obesity. 
As we all have heard by now, the Supreme Court upheld Obama's Affordable Care Act on June 28th!  Overall the Act, which aims to increase access to health coverage for Americans, has remained relatively unchanged.
Did you know that this Act also includes a provision (Section 4205) related to restaurant menu labeling?  This provision mandates restaurants and similar retail food establishments with 20 or more locations to post calorie content information for standard menu items directly on the menu and menu boards.  Vending machine operators with 20 or more machines are also required to disclose calorie content for certain items.
While there's been much discussion from the food industry about the menu labeling strategy, the public health implications of this strategy are significant.  One of the biggest challenges in public health prevention is actually having strategies that can effectively reach the population.  Menu labeling addresses this major challenge as it has the potential to reach many Americans; almost one-third of calories consumed in the US come from eating outside of the home.  In addition, about 80% of Americans support menu labeling as people would like to be able to make informed choices that may improve their health.
Another challenge in public health promotion is that the strategies often implemented tend not be as effective for populations who are at greatest risk for obesity and other chronic diseases.  However, research in New York City has shown that menu labeling may influence food choices in different populations, including low-income, vulnerable populations, who are at high risk.
A positive outcome of this menu labeling requirement, which was not necessarily expected, was the food industry response of the reformulation of menu options at certain chain restaurants to be healthier and some chains now offering smaller portion sizes.
Obesity and other chronic diseases are complex public health epidemics.  Restaurant menu labeling is a public health promotion strategy needed to encourage positive dietary behaviors and promote a healthier US population.  Fortunately, it has remained unchanged when the Supreme Court recently ruled to uphold the Affordable Care Act.