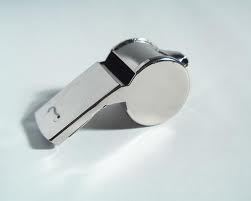 Nurses have been described as key to the quality and safety of health care. But it's dangerous work when you blow the whistle. The most recent case was published in today's New York Times. It describes a traveling nurse, C.T. Tomlison, who worked for HCA's Longwood Regional Medical Center in Texas, reporting to  corporate ethics officer Stephen Johnson that cardiac procedures were being done on patients unnecessarily, putting their lives in danger. The ethics officer confirmed this report, as did other subsequent investigations. But Tomlison lost his job. The Times reports Johnson as saying that Tomlison's contract with the hospital was not renewed because of his report.
When I was editor-in-chief of the American Journal of Nursing, I repeatedly heard from nurses who had blown the whistle on unsafe care and were fired. Most lived in small and not-so-small towns, and said they were unable to get a job afterwards. While some states have whistleblower protection, many do not.
Nurses should be guardians of safe care and advocates for patients. But they shouldn't have to choose between doing so and their livelihood.
Diana J. Mason, PhD, RN, FAAN, Rudin Professor of Nursing