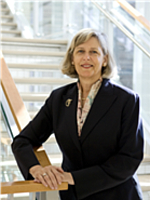 The University of Virginia recently hosted a conversation with the Dalai Lama (who recently received an honorary doctorate from our own Hunter College) and representatives of the UVA health professions leadership, including Dean of the School of Nursing Dorrie Fontaine, PhD, FAAN. Dean Fontaine spoke about an initiative on compassion and mindfulness that the school has created that includes reflective practice.
It's so encouraging to see the possibilities of creating a health care system that embraces mindfulness. But, as one panelist pointed out, the system's focus on through-put and volume doesn't always lend itself to contemplation and pauses. Under the leadership of Senior Fellows Joy Jacobson and Jim Stubenrauch, the Center for Health, Media & Policy at Hunter College is engaged inworking with nurses, other health professionals, patients and families on reflective narratives to promote understanding of oneself and others, promote healing, and reconnecting with the passion that drew us into health care.
I was also encouraged last week when talking with the American Academy of Nursing's "Edge Runners"–nurses who have developed innovative models of care for which there are excellent clinical and financial outcome data. These innovators spoke about key elements of their models of care and central to each were the ideas of listening (to individuals, families and communities) and building relationships.
The challenge we face is how to develop public and private policies that support these key elements. It's not through the 7-minute visit or "drive-through deliveries". We need all of our best thinkers who understand the importance of mindfulness, listening and relationships to explore how our policies can support these key ingredients to better care and better health in an affordable way. The Edge Runner models provide evidence that these key elements can reduce or contain health care costs.
Click here to watch the entire video or cue it up to 33 minutes to hear Dr. Fontaine describe this initiative.
Diana J. Mason, PhD, RN, FAAN, Rudin Professor of Nursing