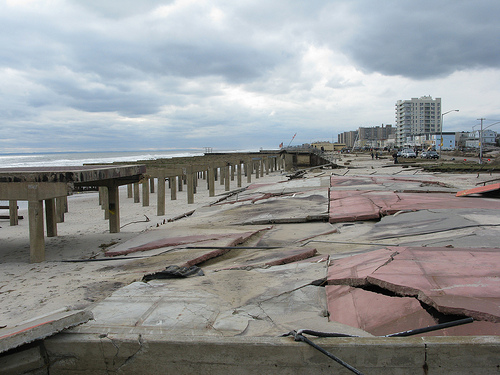 Joy Jacobson is the CHMP's poet-in-residence. Follow her on Twitter: @joyjaco
"We have hot food and bottled water for you!"
I was in a dark hallway of the JASA towers, a senior housing complex in Far Rockaway, Queens, yesterday, with two other women volunteers, shouting into a closed apartment door. I had met the women a few hours earlier at an Occupy Sandy outpost at a church in Clinton Hill, Brooklyn. The towers had been without power for six days. Most of the elderly residents had found shelter elsewhere, but many remained. This woman was hesitant to open her door to us but wanted
to know: What kind of hot food did we have? Pasta, we yelled, or rice and chick peas. We could bring her some other items, like powdered milk, trash bags, toothpaste, we said, if only she would tell us what she needed.
Occupy Sandy is a hybrid that arose out of catastrophic need. The Occupy Wall Street movement united with 350.org, a coalition dedicated to "solving the climate crisis," and Recovers.org, a firm specializing in disaster-recovery software, to form one of the most coherent, organized, and relevant community resources in the wake of Hurricane Sandy. Coming into contact with them just days before the presidential election, I'm reminded of the power of community.
After the woman took a hot meal and some toothpaste, I walked back down the hallway (really, I'm not afraid of the dark but I did find it eerie to be feeling my way in total darkness) and came into a lighted area where I saw a sign for the visiting nurse. I banged on the door, not expecting an answer, and was surprised when a nurse opened the door and introduced herself. She invited me to go with her to the ninth floor to check on a few residents.
As we walked up the stairwell illuminated only by her small flashlight, the nurse said she had worked in the towers, serving the 950 units there, for 25 years. She'd been on site for four days during and after the storm, she said. It became evident to me that, as is true of many community health nurses, this woman wore many hats: nurse, social worker, nutritionist, advocate. She banged on doors, announced herself, stepped inside to check on medications, heating, food and water, emotional status. She navigated the dark hallways with the confidence of someone who knew that so many depended on her.
And we volunteers got to feel that way, too, for a few hours. Several bloggers have noted that Occupy Sandy has filled in where many of the more standard relief operations have failed in the days after the storm. As Sarah Jaffe writes in Jacobin:
I walked into St. Jacobi Church in Sunset Park Friday and saw so many familiar faces from Zuccotti, not sitting around debating how to talk about the revolution, but doing hard, necessary, practical work to feed and clothe and support swathes of the city reeling from the Superstorm. The obituaries of Occupy had never seemed so completely wrong…
Alison Kilkenny at the Nation blog reports that on Sunday alone Occupy Sandy had involved an estimated 2,500 volunteers and 15,000 meals. She calls the aid that's being delivered "a patchwork recovery effort" of Occupy, FEMA, Red Cross, and others, and says that while the Occupy Sandy movement may be criticized on ideological grounds—for the belief that disaster victims need "solidarity, not charity"—I think anyone would be hard pressed to find fault with the work of these volunteers.