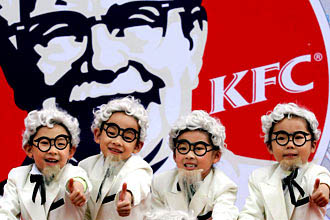 May May Leung, PhD, RD is an assistant professor at the CUNY School of Public Health at Hunter College.  Her research expertise includes the development and evaluation of innovative health communication and community-based interventions to prevent childhood obesity. 
So, I've been working on a paper exploring the differences in childhood obesity in both China and the US and thought I'd share with you some interesting findings.  At first glance one may assume, because of the influx of western culture, that the factors associated with this epidemic are fairly similar in both countries…well, not quite.
Many of us are all too familiar with the childhood obesity epidemic that the US is facing; however, China is also dealing with her own public health crisis.  In China, childhood obesity rates have grown exponentially (cities like Shanghai and Beijing have observed up to a 7-fold increase over the last 20 years).  And, the prevalence in some groups is actually now comparable to rates observed here in the States; nearly 35% of male children in major urban regions in China are actually considered overweight or obese.
To better understand the epidemic in China and its potential causes, one needs to consider what has gone on in her recent history.
The One-Child Policy, which was implemented in the late 1970's for population control purposes, has actually had an unintended consequence on childhood obesity.  This policy has produced what are coined China's Little Emperors and Empresses.  Because of this policy, it has produced a 4:2:1 ratio in many families, where the attention and resources of four grandparents and two parents are all directed towards a single youth and these 'pampered' children often get to dictate what foods they would like to eat.
To make matters worse, many of today's grandparents very much fear an underweight grandchild as they remember their personal experiences of the Great Chinese Famine, which happened about 60 years and resulted in a loss of up to 42 million lives.
Certainly the influx of western culture has played its own role in the development of childhood obesity, particularly the importation of fast food outlets.  McDonald's© first appeared in China in the early 1990's and now has over 1,400 establishments across the country.  In fact, China is the company's third largest market-US and France happen to be the top two.  In addition, Yum! Brands, which owns Pizza Hut©, Taco Bell© and KFC© have over 4,500 establishments dotted around China.
Childhood obesity has quickly become a major epidemic in China and some of the statistics parallel what's happening in the US.  However, it's important to recognize that while there are certainly some similarities between countries, cultural and historical events play their own role in shaping childhood obesity and making it unique to each country.
May May Leung, PhD, RD