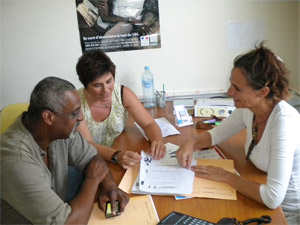 How many times did you leave the office of a health care provider realizing that you had forgotten to ask an important question, or didn't understand part of the discussion, or had no idea what to do next for your health? Most everyone has had such an experience, including Kathryn Koehne, BSN, RN-TNP, Nursing Systems Specialist at
Gundersen Lutheran Health System in La Cross, Wisconsin. Her personal experiences with this scenario led her to take the advice that she was giving to patients about preparing for these visits in thoughtful but easy ways.
Tonight on Healthstyles on WBAI, 99.5 FM from 11:00 to 11:25, host Diana Mason, PhD, RN, interviews Kathryn Koehne about her tips for preparing for visits to health care providers, whether physicians, nurse practitioners, registered nurses, physician assistants, nutritionists, nurse midwives, specialists, or others. Additional tips can be found at the website for Taking Charge of Your Health at http://www.takingcharge.csh.umn.edu.
[powerpress]