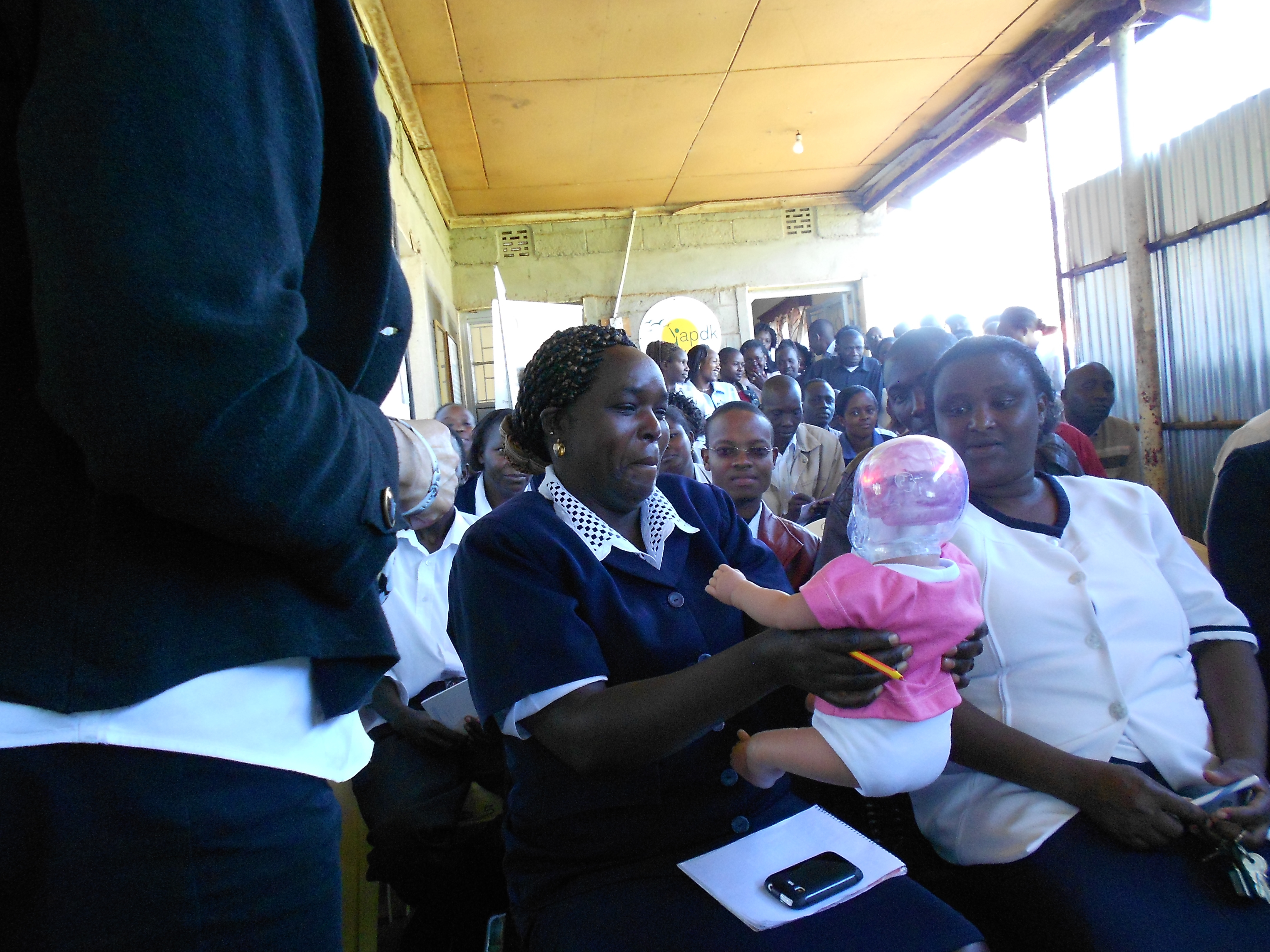 This post is written by Senior Fellow Nancy Cabelus, DNP, MSN, RN, an international forensic nurse consultant currently working with Physicians for Human Rights on a program addressing sexual violence in conflict zones in central and east Africa.
In recent days, I have been traveling as a consultant with a medical team sponsored by the Rotary Club of Davis, California to provide training on abusive head trauma and Shaken Baby Syndrome to medical professionals in Kenya.  Shaken Baby Syndrome (SBS) is a medical condition and form of child abuse caused by violent shaking of an infant. To date, our team has given 9 presentations to hundreds of Kenyan medical providers and students. When participants were asked if they had ever heard of SBS, only a few hands would go up. Most had never heard of SBS. However, the majority had seen the classic symptoms of SBS in their practice. Classic symptoms of SBS include subdural hematoma, retinal hemorrhages, brain swelling, rib fractures and other patterned injures and fractures. Long-term consequences of SBS include cerebral palsy, learning disabilities, and developmental delays. By the end of the presentations and demonstrations using simulation baby dolls, most nurses and doctors agreed that they had seen such cases of trauma in their practice and/or had shaken a baby to quiet them. Some reported that they believed that shaking a baby was the right thing to do when a child was crying inconsolably.
A 2010 national survey sponsored by UNICEF on violence against children in Kenya revealed that 66% of girls and 73% of boys reported experiencing some type of physical abuse by age 18. This limited survey data does not mention SBS specifically nor identify SBS as form of child abuse. The possibility of an adult remembering if they were shaken as a young child is highly unlikely. There is no other data available on SBS in Kenya.
In Yolo County, California where our project team members work, an SBS prevention program was implemented to educate new parents about SBS. With this intervention, the mortality rate of infant deaths declined from 12 per year to 0 or 1 for the following 3 years. When program funding stopped, the numbers of deaths began to rise.  This convincing evidence led to reinstatement of the program.
Thank you to our team leader– Rotarian Judy Wolf for her hard work and vision to make this project a reality in Kenya; to Dr. Angela Rosas and Ms. Kalyca Seabrook for their professional expertise and donated time; to Rotarian Kay Resler for her perpetual smile and administrative support; and special appreciation to Rotarian Vickie Winkler, founder and executive director of Africa HEART for her generosity, kindness, and love for this team and the people of Kenya. It is my pleasure and a privilege to be among you.
  written by Nancy Cabelus, DNP, MSN, RN