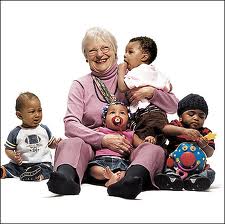 On July 1, the New York Times published an article by Elisabeth Rosenthal titled, American Way of Birth, Costliest in the World. What the title ignores is that the American way of birth also produces poorer outcomes for mother and baby.
We have overwhelming evidence that childbirthing centers SHOULD be the frontline for maternity care. These centers are usually managed and staffed by nurse midwives and use a midwifery–not an obstetrical–model of care. This model views birth as a life transition; the midwife doesn't 'deliver' the baby but assists the woman in birthing her baby.
While some may argue that this is just a matter of semantics, the language of health care providers 'delivering' babies has led to views of the mother as passive participants who are not in control of this powerful event. My mother told me that, for my own birth in the mid-1900s, she was told to cross her legs until the obstetrician could arrive from the golf course and then she was given a general anesthesia and didn't see me for 24 hours. Some women were restrained, given IVs, and were confined to a bed. No eating or drinking until after the delivery.
Childbirth Connections has documented that these are not best practices. The evidence shows that the midwifery model of care produces excellent maternal and infant outcomes (including a high breastfeeding rate), while reducing costs.
Why aren't childbirthing centers the frontline of maternity care across the country?
We invest in producing more obstetricians than nurse midwives. Most European countries have more midwives than obstetricians. The University of Washington just closed its nurse midwifery program because of limited resources. We still need obstetricians for high-risk pregnancies and births.  Midwives screen for risk and refer high-risk women to obstetricians. The model should be that midwives provide the perinatal care for the vast majority of women who have normal vaginal deliveries and refer high risk women to the obstetricians.
Childbirthing centers can't get cost-based reimbursement, despite saving payers a heap of money compared to normal vaginal deliveries in hospitals. How we pay for care is the problem here. If childbirthing were covered on a capitated basis, hospitals and health plans would be spreading childbirthing centers in every community. Instead, Health and Hospital Corporation in NYC closed the last remaining public childbirthing center (at Bellevue Hospital) that accepted Medicaid a couple of years ago. When I asked a member of the HHC board of trustees why they would close a service that saved money, the trustee said, "It doesn't save us money. It saves Medicaid money. We still have to operate an obstetrical service, so we're financing and staffing two maternity services and the savings go to Medicaid. We just can't afford it." If Medicaid paid on a capitated basis for deliveries–a per person flat fee–this could change how hospitals think about childbirthing.
Where is the capital investment to build more childbirthing centers? The federal government would do well to partner with states and private insurers to develop funds for expanding childbirthing centers, recognizing that this will save money in the longterm.
Ruth Watson Lubic, CNM, EdD, has been a pioneer in this work. She is in her mid-80s and still fights to get the U.S. to invest in a model of care that reduces infant and maternal mortality, increases rates of breastfeeding, empowers women and famlies, and costs less. She is the founder of the Family Health and Birthing Center in Washington, DC, the third childbirthing center she has started. When she started Manhattan's Maternity Center Association Childbirthing Centers decades ago as one of the first freestanding childbirthin centers in the country, she had to fight for payment under Medicaid and private payers, battle obstetricians who said it wasn't safe, and find ways to finance it as a "demonstration project" that could provide the needed care while focusing on the service's impact. Ruth is an American Academy of Nursing Living Legend and Edge Runner for her pioneering work. I'm hoping she will live long enough to see our nation remove the barriers to nurse-midwifery-staffed and -run childbirthing centers, including ramping up the number of nurse midwives and investing in the spread of childbirthing centers as the frontline of maternity services in all communities.
Diana J. Mason, PhD, RN, FAAN, Rudin Professor of Nursing