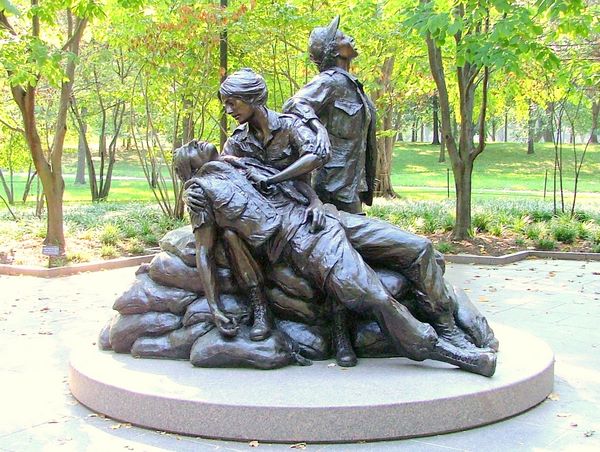 I am a veteran. I was a member of the Army Nurse Corps during the Vietnam War era, as payback for the Army paying for my nursing education. I was not a supporter of the war and, in fact, was tear gassed for protesting the war during my senior year at West Virginia University. I resigned my commission when my three years of military service were done, wanting to leave the experience behind me.
But it was a complicated experience. I served three years at Fort Dix, NJ, and never set foot in Vietnam.  I learned a great deal about myself, about nursing, and about serving outside of a war zone. I struggled with why nurses would choose to remain in the military until I talked with Diane Carlson Evans and some other military nurses who talked about the importance of wounded and dying soldiers being entitled to the best care that nurses can offer. And I wondered, who cares for these caregivers?
Diane Carlson Evans is a veteran of the Vietnam War. Years ago, 60 Minutes interviewed her about experiences in Vietnam and coming home that reflected the struggles of many veterans who were returning from an unpopular war. Repeatedly, she witnessed the honoring and acknowledging of the men who served, while women went unmentioned. Among the women who served in that war were Army, Navy and Air Force nurses who tended to soldiers in their last moments of life, helped to save the life and limbs of those who survived, and encouraged the wounded veterans to believe in their capacity to be whole again.
The Vietnam War Statue was a structural reminder of the invisibility of the women who served. It showed only men and President's Reagan's remarks at the memorial spoke only of men. Diane and a number of other women and nurses who served in Vietnam made a commitment to see a nurses' or women's memorial in Washington. Her long and hard efforts resulted in the Vietnam Women's Memorial on the Mall.
The Washington Post featured an interview with Diane Carlson Evans that focuses on her life story and her struggles with getting the Women's Memorial built. It's worth reading.
Diane and her colleagues are responsible for bringing the role of nurses as healers during war out of the shadows. I hate war but I'm glad that there are nurses who are committed to caring for the men and women who do battle.
Diana J. Mason, PhD, RN, FAAN, Rudin Professor of Nursing