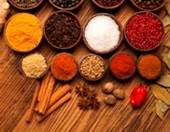 The Rubin Museum of Art focuses on "the ideas, culture and art of the Himalayan Asia." It is a fascinating museum with a permanent collection that moves visitors to think about health and spirituality, community, and ways of living and being. It also has rotating exhibits, such as an exciting one that will begin on March 15th on Tibetan Medicine–Bodies in Balance: The Art of Tibetan Medicine. The museum has planned lots of events and activities both within the museum and in the broader community. Here is one example that I just learned about through an email from the Museum:
The Rubin Museum is hosting a special course, Nutritional Health and Happiness, taking place on Wednesdays, April 9-30 from 6:00 – 8:00 p.m.  In the Tibetan tradition foods, herbs, and spices have powerful effects on physical and mental well-being. This four-part course explores the nutritional wisdom of the Himalayan region and teaches how to incorporate such knowledge into your own life. The Rubin Museum's Tashi Chodron, together with Tibetan physician Dr. Dawa Ridak, Café Serai chef Ali Loukzada, and chef and cookbook author Sandra Garson, will lead hands-on demonstrations, lively discussions, and focused visits to the exhibition Bodies in Balance: The Art of Tibetan Medicine. The course will conclude with a celebratory sampling of delicious dishes created by chefs Loukzada, Garson, and Chodron.
The School of Nursing at Hunter College has been working with the Museum to bring faculty and students to the exhibit.  One of my Hunter nurse colleagues, Denise Murphy, is a docent at the Museum and has been trained in Visual Thinking Strategies to develop learners' observational and critical thinking skills. The Museum's staff are quite eager and helpful in arranging group visits.
I can't wait to go.
Diana J. Mason, PhD, RN, FAAN, Rudin Professor of Nursing