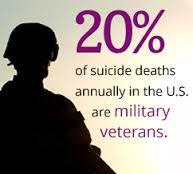 A recent report noted that 22 veterans commit suicide each day–almost one person each hour. We've all heard about PTSD (post-traumatic stress disorder) among veterans and the anxiety and depression that can accompany a veteran's attempt to return to a "normal" life. Pressure on the Veterans Health Administration has led to changes in screening for these health issues, but are the responses the right ones?
Tonight on Healthstyles, producer Diana Mason, RN, PhD, interviews two nurses who are calling for a re-examination of how we work with veterans who may suffer from depression and anxiety, in particular. Kathryn Steele, RN, MA, is a veteran Navy nurse at the University of Minnesota where she is studying integrated approaches to helping veterans with these health problems, including developing social supports from their family, other veterans, friends, and their communities.  Kathleen (Kate) Wheeler, PhD, APRN, is a mental health practitioner and professor of nursing at Fairfield University, where she studies the use of Eye Movement Desensitization and Reprocessing (EMDR) therapy.
Tune in for this important discussion about depression and suicide among veterans, tonight on Healthstyles, on WBAI, 99.5 FM (www.wbai.org) at 11:00 PM, or click here anytime to listen to the interview:
[powerpress]
Healthstyles is sponsored by the Center for Health, Media & Policy at Hunter College.