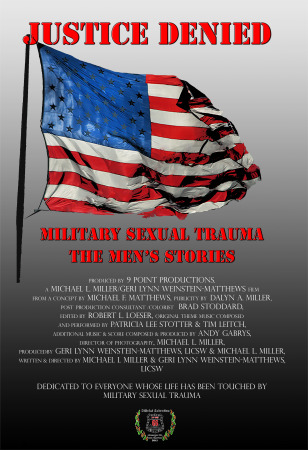 The epidemic of rape in the United States military is not a new issue. The Department of Defense estimates there were a staggering 22,800 violent sex crimes in the military in 2011. 20% of all active-duty female soldiers are sexually assaulted. Female soldiers aged 18 to 21 accounted for more than half of the victims. Now, men are coming forward to share their stories of sexual violence while in the military.
Thursday, April 17th on WBAI 99.5 FM at 11:00 PM tune into Healthstyles when co-host Barbara Glickstein interviews Michael Matthews, USAF Retired disabled veteran who served for 20 years. He is a military sexual trauma (MST) survivor. He is joined by Geri Lynn Weinstein Matthews, MSW LICSW, a licensed clinical and medical social worker with a specialty in trauma. They were subjects in The Invisible War, a documentary about military sexual violence that was nominated for an academy award in 2013.
They have co-produced a documentary, Justice Denied about MST from the Male perspective. You can view the trailer here.
They are committed activists working to end sexual assault within the U.S. military and to help survivors of Military Sexual Assault heal.
You can contact Michael Matthews by telephone at 505-270 2496 if you or anyone you know has been a victim of MST or want to reach out to support their work.
Gerri Lynn Weinstein Matthews can be sent a direct message via her Facebook  page.