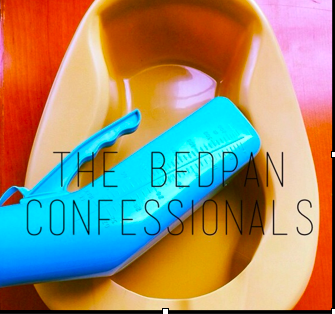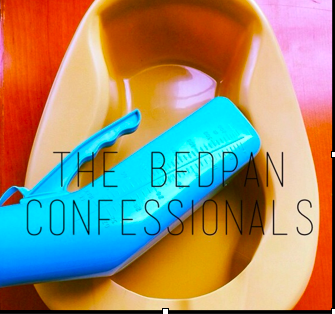 "I want nurses to start talking" states Glickstein's guest  Amanda Anderson, a nurse, writer and one of the forces behind Hunter College's The Nurses Writing Project @nurseswriting.
Co-host Barbara Glickstein interviews Anderson on Healthstyles Thursday, September 4 at 1 PM on WBAI 99.5FM radio & wbai.org.
Anderson curated and directs "The Bedpan Confessionals: Tall Tales of Truth By Nurses, For Everyone" Saturday, Sept. 13th on the Lower East Side at Berkli Parc Cafe @berkliparc, 63 Delancey St., 8:15 – 9:00pm @litcrawlnyc
This event is free and open to the public.
"The Bedpan Chronicles" introduces you to these five nurse writers:
Amy Berman, RN, BS, senior program officer at the Hartford Foundation, has shared her story of being a nurse, a health care consumer, and an active cancer patient around the globe. She is a well-known advocate for palliative care, and publicly shares her mission – to ensure that patients get to choose the care they want – via Health AGEnda, Health Affairs, The Washington Post, and National Public Radio. @notesonnursing
LeeLee Milner, RN, PMHNP, a recent graduate of the Hunter-Bellevue School of Nursing, practices as a psychiatric nurse practitioner in the homes of her patients all over New York City. She gives insight into the intimate details of her home-based patients, and the bravery required to do what she does via her blog, qNurse, where she also writes to her goal of helping nurses maintain mental health through self care. She also teaches young nurses the tools of the trade at NYU, and can't go very long without mentioning her many dogs and their love for Prospect Park.
Roma Arellano, RN, BSN, CCRN, is an experienced intensive care nurse and advocate for night shift nurses. She currently works at New York Presbyterian Hospital, where she is developing a project for the mentorship and increased safety of new nurses entering night shift work. Her stories often focus on her struggle to process motherhood and death – a daily challenge in her nursing work, and through Lit Crawl, she'll bring her brave voice to the public's ears for the very first time.

Ellen Cohen, RN, CNM, author of the recently published book, Laboring: Stories of a New York City Hospital Midwife, estimates that she's delivered approximately 1,400 babies in her tenure as a nurse and midwife. She is currently mid-book tour, and brings a sage voice of experience and passion to our group of authors. Her goal as a nurse-writer is to promote holistic midwifery and a better public understanding of the practice through her stories of courage and defiance of traditional roles that pave the way for women, health care and patient advocacy.
Amanda Anderson, RN, BSN, CCRN, will host the venue, espousing nurse-y wisdom and wit throughout the night. She currently leads the collaborative editing program within Hunter College's The Nurses Writing Project, which she co-directs. Her blog, This Nurse Wonders, focuses on her career goal of getting nurses to start talking about what they do in ways that the public can understand. She blogs for The American Journal of Nursing, Scrubs Magazine, and Center for Health Media & Policy's HealthCetera, to that aim. She works at Mount Sinai Beth Israel Hospital, and is studying far too hard for far too many degrees at Hunter & Baruch Colleges. She bikes.
You can find Amanda Anderson on Twitter @12hourRN, and on her personal blog: http://www.12hourRN.tumblr.com.

Everyone has a story. Deborah Jiang Stein's adoptive parents didn't want her to know that she was born in prison to a heroin-addicted mother.
Deborah Jiang Stein, author of the memoir, Prison Baby published by Beacon Press, advocate for incarcerated women and the founder of the unPrison Project is interviewed by co-host Barbara Glickstein. Themes of disconnection, secrets, transracial adoption, incarceration of women and babies born in prison are discussed.
Find out more about the unPrison Project and consider supporting the Behind Books Not Bars Prison Baby book club for incarcerated women and girls.
Listen to the interview (this is a rebroadcast):