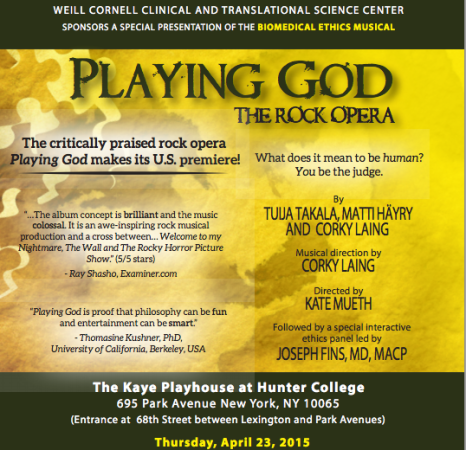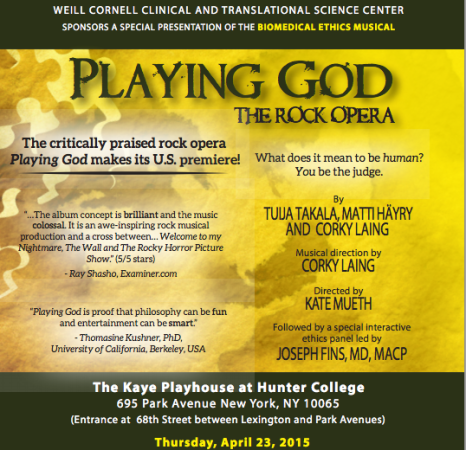 The Center for Health, Media and Policy celebrates the role of the arts in contributing to the critical conversations we are having or need to have about health and health policy. That's why we're encouraging those residing in the Greater New York metropolitan region to attend the rock-opera, Playing God: The Rock Opera created by Finnish bioethicists and musicians Matti Häyry and Tuija Takala and legendary drummer Corky Laing.
This production is sponsored by the Weill Cornell Clinical and Translational Science Center (CTSC) and is FREE.  This production has audience members enthralled as they engage you to think about several key social issues we must give more thought to including "designer babies" and "savior siblings."
Playing God tells the story of a fictional small town whose inhabitants have enjoyed the benefits of gene technology for decades. As the paths of the young characters—whose lives, loves and futures have been shaped by genetic intervention—collide, the secrets, sacrifices and ethical compromises of the community are exposed.
Through the story, music and characters, Playing God challenges the audience to study their own ethical convictions, raising open-ended questions about parental choices, perfection, identity and what it means to be human in a world when our fundamental genes are open to manipulation. Playing God has been critically praised and likened to such classic rock theatre pieces as Tommy, The Wall and the Rocky Horror Picture Show.
Following the performance, there will be an ethics panel discussion moderated by Joseph J. Fins, MD, The E. William Davis, Jr. MD, Professor of Medical Ethics and Chief of the Division of Medical Ethics, Weill Cornell Medical College, and Director of the Research Ethics Consultation Service, Weill Cornell CTSC.
RSVP to this free event at http://ctsc.med.cornell.edu/PlayingGodRocks.