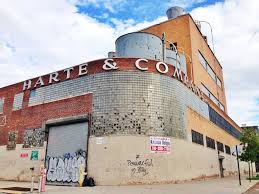 On a hot summer evening, Greenpoint residents filed into the Dupont Street Senior Housing building for the North Greenpoint Development Meeting at 6:30 p.m. They signed their names on a sign-in sheet and grabbed packets with community updates. They were met with sat down to hear from City Councilman Stephen Levin's office, Jane O'Connell from the Department of Environmental Conservation. By 6:35 p.m., the room was packed.
Greenpoint residents have gathered on this evening because they want to know what is going on with Nuhart Plastics, a former plastics factory and current state superfund site that's being turned into residential towers.
The New York State Department of Environmental Conservation defines a superfund site as a "significant threat to the public health or environment" that requires action. There are five classes of sites; Class I being the most dangerous. Nuhart is a Class II.
That's part of the equation. The other part is what is called a 'chemical plume.' A mass of aqueous toxic chemicals called phthalates is sitting underneath this factory. Phthalates are a commonly used chemical to make plastics more bendable. BPA is an example of a phthalate. They're ubiquitous. They can be found in soaps, plastic bottles, toys, shower curtains… you name it. The CDC says the effect on humans is unknown, but research scientists like epidemiologist Pam Factor-Litvak at Columbia University's Mailman School of Public Health says scientists have tried to find other reasons for a correlation between phthalate exposure and hormone disruption, cognition and behavior issues in children, but haven't yet.
"We've measured a lot of other contaminants, a lot of sociodemographic characteristics, all that might explain away the association… and they don't," Factor-Litvak said.
Concern about community health filled the room. Laura and Mike Hoffman, lifelong residents who were in attendance that night, have said they lost family members and friends—some infants and some elderly—to rare neurological disorders and cancers they think are caused by toxic exposures in Greenpoint. They say they have sought out a health study on these diseases in Greenpoint for several years but never found one.
Several people have stepped up in front of the crowd to speak: Councilman Stephen Levin, Environmental consultant for the new owners of Nuhart Michael Roux, Environmental Advocates Jennie Romer and Mike Schade from Neighbors Allied for Good Growth. They all heard specific, pointed questions about clean up, chemical exposure prevention measures and requests for more air and soil data collection. Their answers, some more clear and satisfying than others, were met with follow-up questions or tense silences.
An expecting mother in the room bursts into tears during a Q&A session, muttering that all she wanted to know is if her family was going to be safe.
A mild shift came when Peter deFur, the president and owner of Environmental Stewardship Concepts, a consultation group that provides technical assistance to community groups, government agencies, and businesses on environmental cleanup issues, makes his way to the front of the room. Dr. deFur has recently been hired by the as a technical advisor by NAGG for the Greenpoint community.
Watching him field questions from the crowd was almost like falling into a trance. His baritone voice was like a hum, calming but seeming engaged with the concern from the crowd.
"I hear the term 'acceptable a lot', and I'm curious from your past…how does this compare with proximity to people and what is…" says one man in the back of the room, starting to ask a question. His voice got lost in the buzz of the room's AC unit.
"OK, the question was—because I don't think anyone over here could hear your question very well—you started asking about what's 'acceptable,' and in our experience, has a remedy like this been completed in a way that protected the community's health. Is that about right?" deFur asked.
"Yeah," replied the man.
"And he's interested in this boundary between using the term 'acceptable' and using the term 'safe,'" deFur continued. deFur's answer was yes, and as he explained to the community the tension in the room eased somewhat. They had some of the clearest explanations given all night. He ended with a reassurance.
"The question between 'safe' and 'acceptable' that sometimes agencies will have a very specific meaning for the term," deFur said. "That is something we will explain, that term, and where the agency gets to that term."
After taking about a dozen more questions, deFur tells the community his immediate plans would include meeting with the state DEC and interpreting data from a remedial investigation and feasibility study report, a study of the scope of contamination, that the agency will release in the next couple weeks. From these data, deFur and his team would make fact-sheets for the community to use at the next public hearing for the superfund cleanup.
The night ends with warm handshakes and "Thank you's" before he left for the night. It seemed both the community and NAGG who hired him would, for the night, breathe a little easier.
Helina Selemon is a student at the CUNY Graduate School of Journalism and was a summer intern with the Center for Health, Media and Policy. Tune in for her detailed report on this issue on an upcoming segment of HealthStyles, of via the WBAI archive.