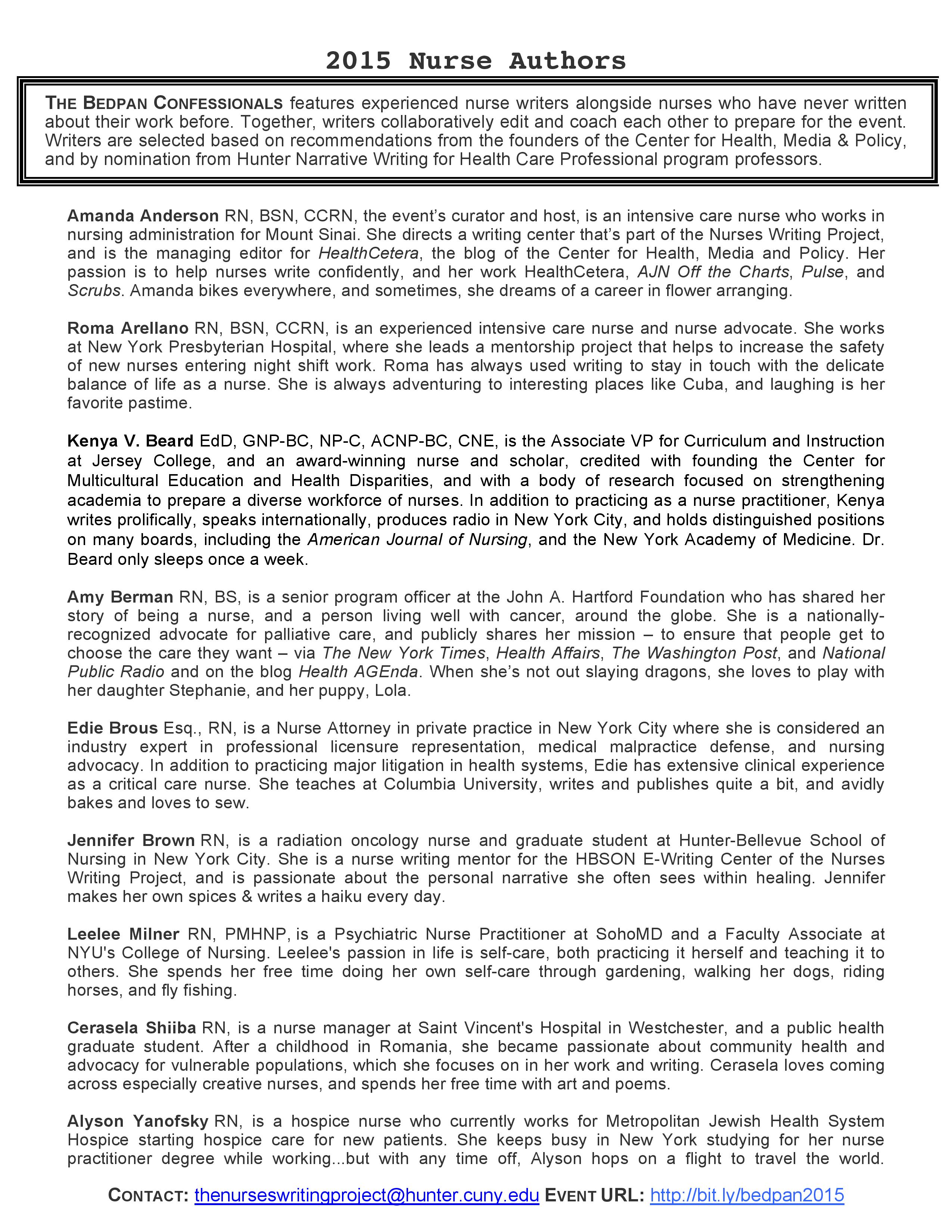 In a world where most of the media we consume is digital and free, it's easy to forget that the production of content actually costs something. As much as we despise commercial interruptions and quickly turn the dial away from fund drives, they serve a purpose – to keep our favorite programs functioning.
As such, HealthCetera Radio is on hiatus for WBAI's Fall 2015 Annual Membership drive this week. Check out the "Favorite Show E-Donation" page, and put our name down. Archives of our show are available on WBAI Archives for free streaming.
In other local news, The Center and it's affiliated writing program, The Nurses Writing Project, are hosting a free event tomorrow night at the Sixth Street Community Center in the East Village. The Bedpan Confessionals, in its second year, is a storytelling series about what it means to be a nurse. Started in 2014 as an entry to a narrative bar crawl, this year's reading continues the original theme – using true tales of nursing to combat stereotypes and misconceptions of the work that nurses do.
With the View's recent stethoscope debacle in response to Miss Colorado's nursing monologue still stinging, it's clear that interesting, purposeful content about nursing is needed, more than ever. By pairing experienced and new nurse writers together, and collectively sculpting original works, The Bedpan Confessionals hopes to show that all nurses can write and share their stories of care, and that people – nurses and non-nurses alike – are excited to listen to them.
This year's authors include diversity scholar Kenya Beard, legal nurse expert Edie Brous, patient advocate and policy expert, Amy Berman, and a handful of emerging nurse writers who were selected by Narrative Writing for Health Care Professionals directors because of their writing talent and drive.
We'll be reading live from Sixth Street tomorrow night, Friday, October 9th, from 7:30-9:30PM. The event is free, and all cafe sales go straight back to the fantastic community work that Sixth Street does in the East Village. Complete event details, including author bios, can be found at bit.ly/bedpan2015. If you can't make it, stay tuned for details about a rebroadcast to the show on WBAI, or tune in via @NursesWriting for the link to the telecasted live show.