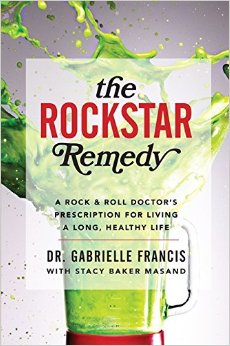 Urban Dictionary defines the phrase, "You're a rockstar," as:
"A statement made following a success that is not measured by what one accomplishes, but by the opposition they have encountered, and the courage with which one has maintained the struggle against the overwhelming odds."
HealthCetera landed Rock Star Remedy author, and holistic practitioner Dr. Gabrielle Francis, for our special membership drive program today, October 15, at 1PM. She certainly fits the definition of this proverbial slang.
Our premium guest, and a premium offer go together. Dr. Francis and Stacy Baker Masand authored "The Rockstar Remedy: A Rock & Roll Doctor's Prescription for Living a Long, Healthy Life" (published by HarperWave). The book, packed with resources, checklists, reading recommendations, and the thoughts of dozens of musicians who have benefited from Francis' wisdom, will be offered during today's show, as a premium gift when you donate $50 or more during HealthCetera's segment of our membership drive.
You hear this download this interview here, or tune in today, and every Thursday, from 1:00-2:00PM on 99.5FM, or via WBAI archives. HealthCetera Radio is the voice of the Center for Health, Media & Policy at Hunter College, CUNY.