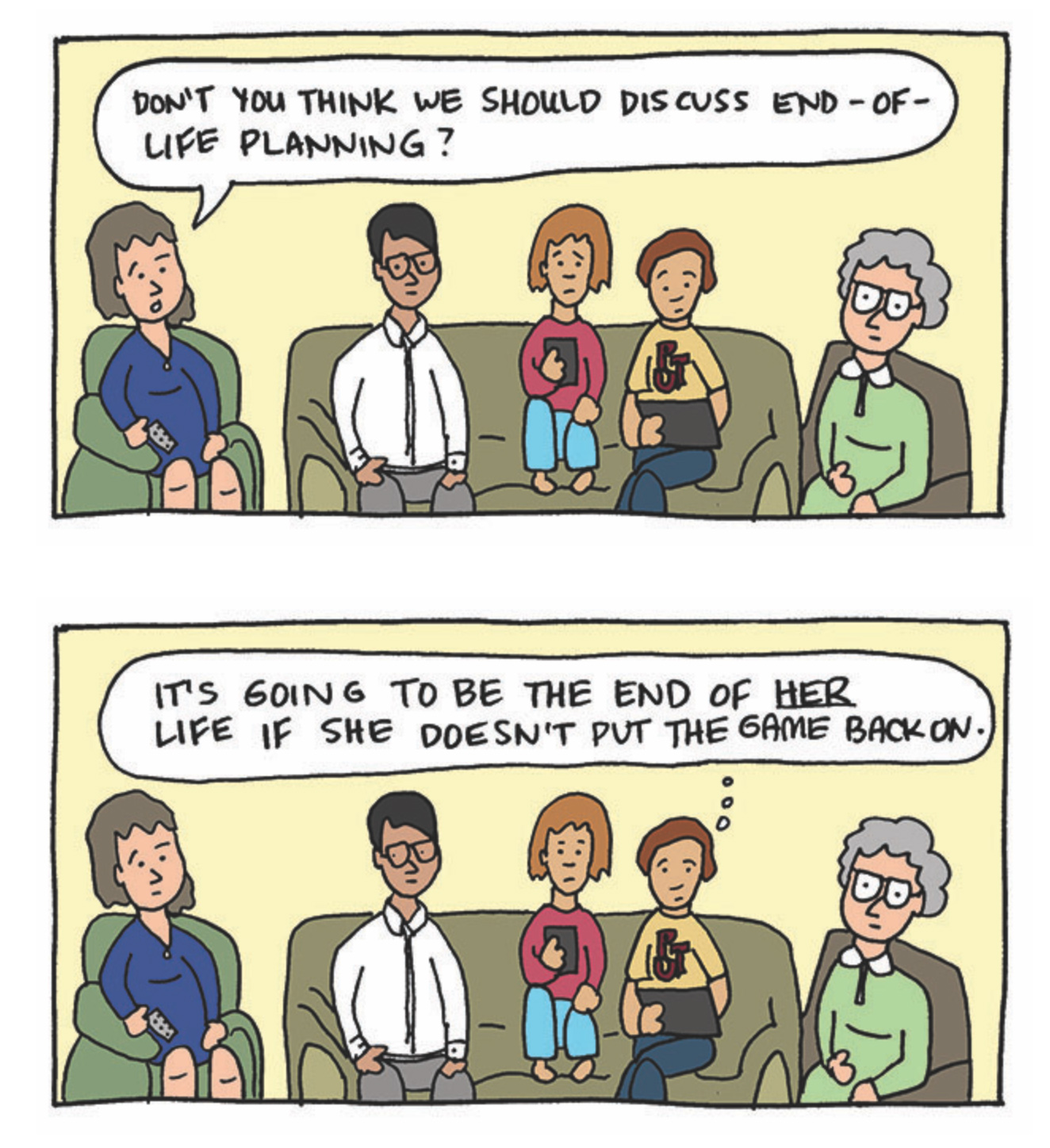 The nascent Graphic Medicine Movement has found resonance with many people for many reasons. The combination of comics and health is having significant impact. For me, the most exciting thing about comics having a serious place in the discourse around illness, caregiving, disability, and body, is that comics are how I learn. I feel as if doors previously closed have been opened by these sequential combinations of image and text. Whether I am the one reading or making the comic to understand an experience, an illness, a challenging situation, an intellectual or scientific concept, comics plus whatever topic is at hand always makes the topic more approachable and even enjoyable. New pathways toward accessibility of information are being forged.
Two colleagues associated with the narrative medicine program at Columbia University and I are interested in exploring whether comics be helpful in a particularly challenging area of health care communication:
talking about dying and death
.
The first step in talking about dying and death is to de-stigmatize the lived experience of hospice and palliative care, to provide cultural reference points for these experiences. Comics have been ahead of the curve in this area. Believe it or not, several existing graphic memoirs share honest, difficult, but also often loving and beautiful, accounts of natural dying and death.  Examples include, but are not limited to:
And more work in this area is being created. Artist Sharon Rosenzweig is sharing daily meditative, spiral infused drawings 
on Facebook
 about her family's experience during hospice care of her mother. The spirals are inspired by the teachings of comics legend Lynda Barry. You can hear Sharon discuss her process in 
this short talk
.
 And
Kevin Budnik
recently shared this comic page on his Twitter feed.
These projects, some published and some still ongoing, utilize the medium of comics to explore and share, to bear witness to family experiences of dying and death. These comics serve as a window into the stressors, rewards, challenges, and experiences of hospice and palliative care. Through the windows these comics provide, the detailed representations of experiences with dying and death are brought out of the darkness and into the light, providing examples of paths to take, options to consider, and, potentially, mistakes to avoid.
Data supports the need for conversations about values, goals, and plans for end-of-life, and also that they are not happening as much as needed. Studies have shown that approximately 80% of Americans would prefer to die at home, if possible. Despite this, 60% of Americans die in acute care hospitals, 20% in nursing homes and only 20% at home (
source
). In a 2012 survey commissioned by the California HealthCare Foundation, most of the 1,669 surveyed said that if they were seriously ill, they would want to speak with their doctor about end of life care. While a large majority of Californians (82%) say it is important to have end-of-life wishes in writing, only 23% say they have done so (
source
). In a 2009 study led by researchers at the Dana-Farber Cancer Institute, 603 patients with advanced cancer (with about six months to live) were asked whether their doctors had discussed their wishes for end of life care. The majority (69%) said those conversations had not taken place. The data is also clear that conversations about end-of-life care are beneficial. In the last week of life, those patients who had talked with their doctors about end of life care ended up with medical bills on average 36% lower than those patients who did not have end-of-life conversations (
source
).
As a nursing supervisor in a Level 1 Trauma Center and student of bioethics, rounds through an MICU often made it clear to me that frequently what were considered bioethical issues are more often communication issues: a person on a ventilator can no longer speak for themselves. Young or old, they never appointed someone else to speak for them or never had a serious conversation with anyone about what their values and priorities were for end of life care. These conversations are difficult but essential. Since death is the ultimate subject on which there are no alternative facts, that is, we are all going to die, making one's values clear on this topic, sick or healthy, young or old, is not about giving up or being morbid. It is facing reality.
Can comics help people make their wishes clear? Could comics help promote conversations about death and dying long before they are needed? Those of us interested in the possibility that comics might help open up conversations about dying and death have
tried a few ideas
, and have more to pursue. I think the answer to this question is yes – comics have the power to make this difficult reality more manageable. I'm not a fan of forcing people to do things that are difficult. I am a fan of making it as easy as possible be to get the job done. There are actually many great resources out in the world to assist people in having these challenging conversations with their loved ones. Comics can potentially serve as a bridge to these resources, to getting end of life wishes known and documented. Comics can also help clarify statistics, dispel misbeliefs, and affirm values. There is much work to be done in this arena. All ideas are welcome.