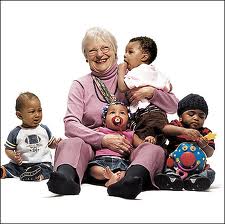 On July 1, the New York Times published an article by Elisabeth Rosenthal titled, American Way of Birth, Costliest in the World. What the title ignores is that the American way of birth also produces poorer outcomes for mother and baby.
We have overwhelming evidence that childbirthing centers SHOULD be the frontline for maternity care. These centers are usually managed and staffed by nurse midwives and use a midwifery–not an obstetrical–model of care. This model views birth as a life transition; the midwife doesn't 'deliver' the baby but assists the woman in birthing her baby.
While some may argue that this is just a matter of semantics, the language of health care providers 'delivering' babies has led to views of the mother as passive participants who are not in control of this powerful event. My mother told me that, for my own birth in the mid-1900s, she was told to cross her legs until the obstetrician could arrive from the golf course and then she was given a general anesthesia and didn't see me for 24 hours. Some women were restrained, given IVs, and were confined to a bed. No eating or drinking until after the delivery.