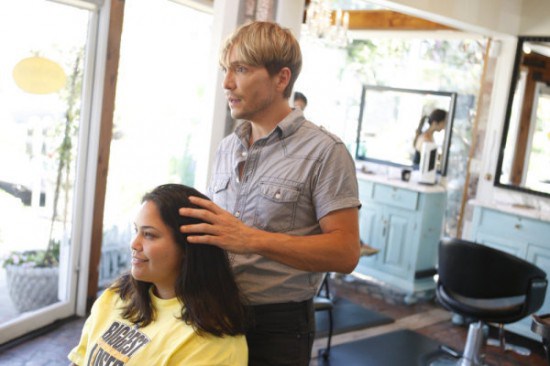 Biggest Loser Season 10 Episode 10
"It's A Beautiful World We Live In"
Last night, while most American households watched Bristol Palin lose the Dancing With the Stars finale, some of us finally learned how to pronounce the name of Ken Paves, noted Jessica Simpson hanger-on (and creator of Simpson's low-rent hair-extensions line).
It's Pave-iss.
Ken was on hand to help the seven remaining Biggest Loser dieters because it was makeover week.
"I'm gonna be beautiful tomorrow," declared a triumphant Elizabeth.
But was she really more beautiful in her strange new plus-size clothes? Stylists gave her a cheap-looking, printed-pattern sweater and office-worker slacks with an oddly placed thin belt, plus a long shirt which resembled a short skirt.
There's a reason the average American woman wears a size 14, yet clothing above size 14 represents only 18 percent of sales: there are few great clothing options for plus-size women, a problem documented carefully in this New York Times Magazine piece.
So while Marc Jacobs' business partner Robert Duffy tantalizingly tweets of a possible plus-size line, American women are relegated to low-cost, ill-fitting pieces from Lane Bryant or mega-expensive, loose-fitting therapist wear from J Jill or Eileen Fisher. In 2005, H&M discontinued plus-sizes entirely, while J. Crew and Ann Taylor recently moved them to online-only.