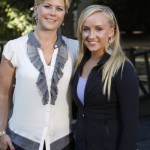 In last night's episode of The Biggest Loser, Olympic gymnast Nastia Liukin delivered an important message to the contestants. With a bright smile and her child athlete's familiarity with total self-denial, she was a beacon of hope, a kindred spirit to our friends on their journeys. She was also there to address a crucial topic: food, which is something rarely discussed on the show. Aside from tossed-away tips and food-related challenges, America's $100 million weight-loss juggernaut is mostly silent about what to eat while slimming.
However, Nastia had some helpful information: "Staying fit is a process and part of that is eating right and maintaining a healthy lifestyle. The great thing about Subway is, it fits perfectly no matter what your needs are."
You see, leaving the ranch loomed large on last night's Biggest Loser.  With six contestants remaining and two of them about to go home, everyone began to worry about how they would fare outside of the show's artificial bubble. Bob and Jillian decided it was time for a fireside chat.
"Contestants are going home soon. Historically speaking, it's a really difficult transition for them," said Jillian, with her trademark crooked smirk.
Bob went for a more colorful (and confusing) metaphor to describe the contestants' situation: "You guys have pulled the curtain back. You've met the wizard….You have the strength. You have the knowledge. You can do it. If you decide you're worth it enough to do it."
But the soon-to-be-eliminated Mark voiced the fear that all the sweatshirt-clad were feeling:
"I honestly don't know what to do when I get home."